Things You'll Need
Ruler

Cardboard

Scissors

Fabric pencil

Scrap cotton fabrics

Needle, size 10

Gray thread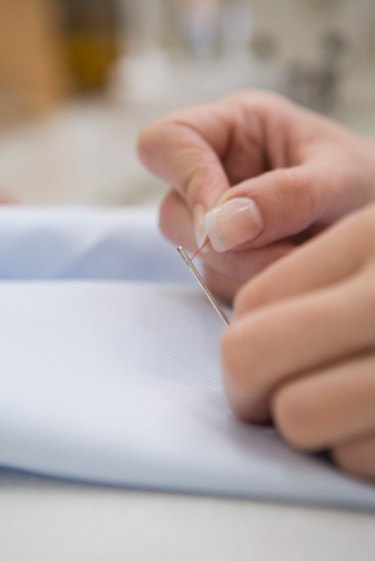 The yo-yo quilt was a favorite with thrifty home sewers during the first half of the 20th century. A yo-yo, usually round, is hand-stitched from a circle of scrap fabric and combined with many more yo-yos to form a bed covering or comforter. You can also make square, oval and heart-shaped yo-yos and hand-sew them together into a comforting coverlet that carries the timeless qualities of thrift, ingenuity and charm.
Step 1
Measure and draw a 5-inch square on a piece of cardboard, then cut it out with scissors. This is the template for your square yo-yos.
Step 2
Trace around the template with a fabric pencil onto a fabric scrap, then cut out the fabric square.
Step 3
Thread your needle with 24 inches of thread and hold the fabric square in front of you, with the wrong side of the fabric facing you.
Step 4
Fold in the top edge of the fabric 1/4 inch and secure it in place with a hand stitch. Continue folding in 1/4 inch of the fabric around the entire perimeter of the square, making hand stitches near the raw fabric edge that measure 1/4 inch in length.
Step 5
Pull the thread to gather the stitches, creating a decorative circle with the fabric. Knot the thread to complete one yo-yo, then pull the fabric gently to restore the square form of the fabric.
Step 6
Make 100 of these yo-yos with your fabric scraps, then sew them together into rows using small hand stitches at the corners to create a comforter.