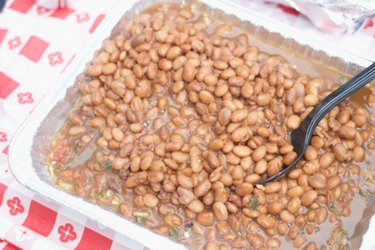 Baked beans, which traditionally consist of cooked pinto beans, tomato sauce, bacon and seasonings, are the ideal side dish to a wide variety of casual summer foods. Baked beans are typically found at picnics and cook-outs, alongside grilled meats and garden salads. When planning an outdoor bash, you can make your own baked beans from scratch, or choose canned beans for convenience.
Grilled Meat
Baked beans go hand-in-hand with grilled meats. Sweet and tangy baked beans complement the smokiness of the meat. Serve homemade baked beans with your favorite grilled meats, such as chicken breasts, hamburgers and cheeseburgers, pork chops and bratwurst. Grilled hot dogs and baked beans make a kid-friendly lunch or dinner. For an all-in-one meal, slice grilled hot dogs into bite-size pieces and mix them in with baked beans.
Pulled Pork Sandwiches
Pork and baked beans make a classic and tasty flavor combination. To create the sandwiches, prepare a pork roast in a slow cooker until tender. Pull the pork into shreds using two forks, and mix the meat with your favorite handmade or bottled barbecue sauce. Serve the pulled pork on fresh bakery buns, alongside savory baked beans and cool, creamy coleslaw.
Fresh Garden Salad
Baked beans provide plenty of protein, so serve them alongside a fresh garden salad instead of meat. The vegetarian-friendly meal is ideal for warm summer months, when your vegetable garden is in full bloom. Make a filling and nutritious salad using dark leafy greens, juicy tomatoes, shredded carrots, sliced cucumbers, spicy radishes and crunchy bell peppers. Top the salad with a light vinaigrette to cut some of the richness of the beans, or a creamy ranch dressing.
Breakfast Foods
Mix up your usual breakfast by adding spicy baked beans. You can serve the baked beans in addition to traditional breakfast meats, such as bacon or sausage, or in place of them. Baked beans also complement scrambled eggs and crispy, golden hashbrowns. You can also enjoy the saucy beans atop toast or English muffins.