If your family is like mine, you probably have chicken for dinner on a weekly basis. I prepare it baked, grilled, use it in pastas... you name it. One method I usually stay away from is frying my chicken because it is the least healthy way to prepare the it. However, when I get a craving for fried chicken I use my recipe for baked breaded chicken which satisfies all of my cravings without any of the guilt! This recipe is family friendly and super easy to prepare. You are going to love adding baked breaded chicken into your weekly dinner recipe rotation!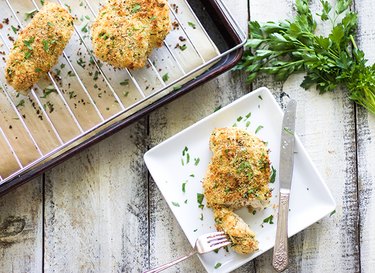 Things You'll Need
Boneless chicken breasts, (2 to 4)


1 cup of bread crumbs (Panko or Italian style both work here)

2 eggs

1/2 cup of all purpose flour

3 teaspoons kosher salt

1 1/2 teaspoon black pepper


2 tablespoons fresh chopped parsley

1 tablespoon of olive oil

Tip
Feel free to use a whole cut up chicken as opposed to just breasts if you desire. Your cooking time will be slightly longer if your chicken still has the bones in.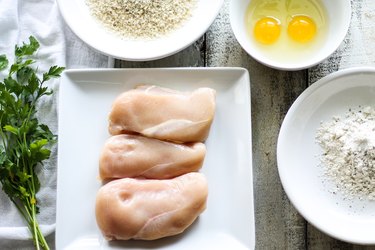 Step 1: Preheat Oven to 425 Degrees Fahrenheit.
Step 2: Assemble Breading Station
You will need three shallow, wide bowls. In the first bowl, add the flour and season with 1 teaspoon salt and 1/2 teaspoon black pepper. In the second bowl, beat two eggs until eggs and yolks are combined. In the third bowl, add the bread crumbs and season with 1 teaspoon salt and 1/2 teaspoon black pepper. Line these bowls up in order of flour, then eggs, then bread crumbs to make your breading station.
Step 3: Bread the Chicken
Use the last teaspoon of salt and 1/2 teaspoon of black pepper and season both sides of the chicken before breading it. Place each piece of seasoned chicken in the flour and coat lightly. Directly place the floured chicken into the beaten eggs and coat completely allowing excess to drain off. Lastly, place the egg and floured drenched chicken into the bread crumbs and coat completely. Place the chicken onto a baking sheet that is lined with a cooling rack to ensure even cooking on both sides of the chicken. Drizzle the breaded chicken with olive oil and sprinkle 1 tablespoon of parsley over top.
Step 4: Bake the Chicken
Bake the chicken for 25 to 30 minutes until chicken is cooked through. For the last 3 minutes, switch the oven to broil to ensure a crispy and golden crust. When chicken is cooked through, sprinkle with the other tablespoon of fresh parsley and serve immediately.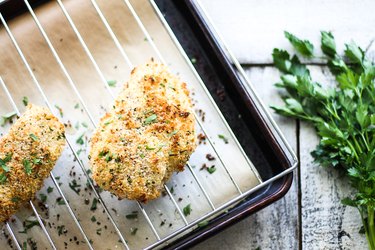 This recipe is so yummy and is perfect served alongside your favorite sides or served cut up on top of any salad. The options are endless!