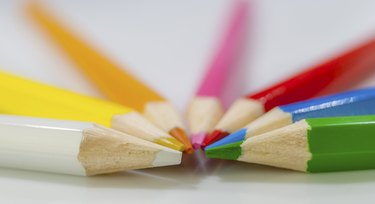 An often misleading request on supply lists, the phrase map pencils might be confusing to parents during back-to-school season. What most parents don't realize is that the phrase is just another term for regular colored pencils. Described as map pencils because of their use in the classroom, these coloring tools come in a variety of brands, sizes and quantities, to fit any supply need.
History
The writing utensil has adapted over the years from mineral rocks to wood-encased sticks. While the earliest ancestor of pencils as we know them now debuted in the 1400s, it wasn't until the early 20th century that colored pencils made their own debut, replacing the graphite core of the regular pencil with a combination of pigments and binder.
How it's Made
The pigments and binder combination also typically includes extenders and water. This ingredient dough is forced through an extrusion press of small tubes creating the pencil lead shape, then dried in an oven. The outside of the colored pencil is comprised of two grooved slats, which are glued to fit around the colored center. The pencil's wood outer is painted according to the color of its core.
Uses and Styles
Colored pencils generally come in two outer styles, either round or hexagonal. Many brands offer pencil colors purchased individually or in anywhere from eight- to 120-count packages. Quality and price often depend on the pencils' intended type of use from kids projects to artistic sketching. The type of colored pencils suggested by the term map pencils generally means basic options.
Where to Buy
There is a style of colored pencils to fit any budget, and the largest array of options can be found at craft or art supply stores. Colored pencils can also be purchased at office supply stores, and almost any multi-department retailer like super stores and dollar stores. Even grocery stores offer a small school supply aisle that should house colored pencils in limited styles.