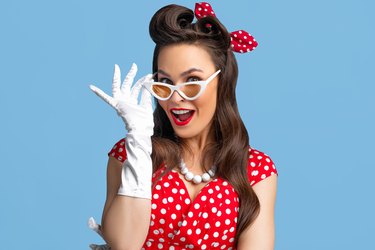 Few movies are as well-known as ​Grease​, starring Olivia Newton-John and John Travolta. Released in 1978, this musical romance provided a glimpse back into the 1950s while telling the story of how its main characters, Sandy and Danny fell in love. Channel your inner Rizzo, Kenickie, Frenchy, Marty, Putzie, Jan, Sonny, Doody, Sandy or Danny by creating a ​Grease​ Halloween costumes. Many of the items you need to represent your favorite characters are available in your closet and at local thrift stores, so ​Grease​ clothing won't bend your Halloween budget.
Together, the women in ​Grease​ comprise the "Pink Ladies." Each of these women have their own style, especially when it comes to hairstyles. Before you create your costume, decide which character you want to be and check out images of her from the movie.
​Sandy's Carnival Look​: Black shiny high-waisted leggings and an off-the-shoulder form-fitting black blouse. Wear a wide black belt to match.
​Rizzo's Carnival Look:​ Pink short shorts and a short-sleeved red button-down blouse. A red belt finishes off the look.
​Pink Ladies Outfits​: It all starts with a flared poodle skirt or form-fitting pencil skirt. Add a short-sleeved sweater or t-shirt and top it all off with a pink satin jacket. An alternative to the pink satin jacket is wearing an open cardigan draped over the shoulders.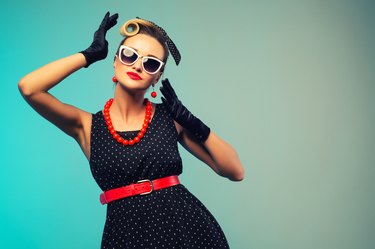 Tip
If you can't find poodle skirts at a thrift store, they are a fast sewing project that are simple enough for beginners. Poodle skirt patterns are readily available at sewing stores. Use felt cutouts ironed onto the skirt with fusible interface to create custom designs on your poodle skirt.
​The Shoes:​ Saddle shoes with white socks are paired with nearly all of the ladies' outfits. When dressing as Sandy in the black Carnival look, wear red high heels or mules.

​The Hairstyles:​ It is all about bangs for the girls. A high pony tail with a scarf tied around the elastic band is an appropriate hair style for long hair. If you have shorter hair, try a teased perm with tons of volume. Wear a pink bouffant wig to replicate Frenchy's ​Beauty School Dropout​ look in the scene with Frankie Avalon.

​The Accessories:​ Scarves are all the rage for the Pink Ladies. They work around the neck, around the hair, or tied around a ponytail. Bright red lipstick is as iconic to Rizzo as the double barrettes were to Sandy.
The T-Birds are identified first and foremost by their black leather jackets and greased hair. Almost everything you need to complete the mens' outfits can be found in your closet, it is just a matter of folding up a few sleeves and pant legs.
​Danny's Carnival Look​: Black straight-legged dress pants with a tight black t-shirt. Roll up the sleeves of the t-shirt a couple of times.
​Danny's Dance Look​: One of Danny's most recognizable outfits was the black suit and pink dress shirt he wore during the dance scene. Pink socks and a pink pocket square are must-haves if you want to replicate this look.
​T-Birds Look​: All the men wear dark wash, straight-leg jeans that are rolled twice at the bottom cuff. A simple white undershirt with rolled sleeves is topped with a black leather jacket.
Tip
Use white iron-on vinyl to create a T-Birds logo to add to the back of a faux leather jacket. You can use this same technique to add names to the jackets for the Pink Ladies as well.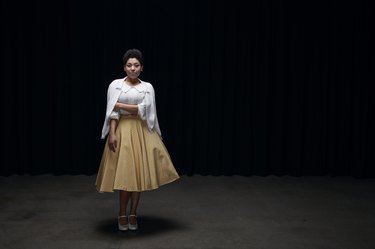 ​The Shoes:​ Black biker boots and black canvas high-tops are the shoes of choice for the men. If you are going for Danny's dance look, shiny black dress shoes complete the outfit.
​The Hairstyles:​ For the boys, it is all about the grease. Use a comb to brush hair up and back with tons of shiny gel or hair grease.
​The Accessories:​ The men in the movie frequently had a pack of cigarettes tucked into their rolled up shirt sleeves. Although the boys don't accessorize their outfits as much as the girls, they often have bandanas tucked into the back pocket of their jeans.