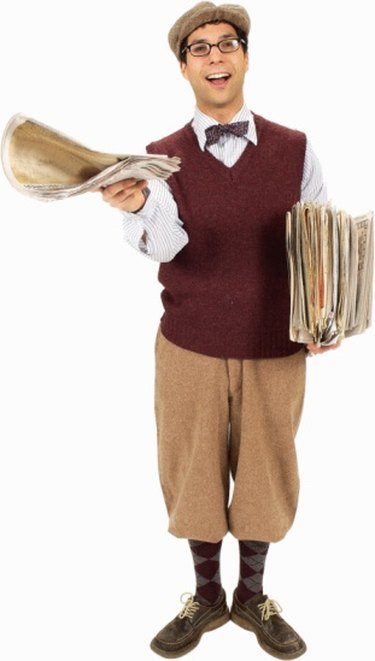 During the holiday season, newspapers blend current events, local news and special Christmas-related content to entertain and inform readers. A mix of human-interest stories and helpful tips add value to each newspaper issue and provide useful columns readers will refer to again and again. Increase readership and local presence when you reflect regional or national trends by contacting local business owners for interviews.
Toys
Ideal for a newspaper magazine section, a review of the evolution of toys and how children's expectations have changed can make for a thought-provoking story. Determine a manageable time line to explore, such as the last 50 years, and dive into highlighting the most popular toy choice for each decade, including price. Describing toys and Christmas for kids during the Great depression as well as modern-day budgets and financial burdens provides opportunities for comparison. Complete the article with suggestions on how families can provide a meaningful and memorable holiday experience without spending a lot of money.
Shopping
Give a boost to the economy by promoting local small businesses that sell items for Christmas. Highlight a new business or do a report on how to complete Christmas shopping list by strolling and shopping down Main Street. Stories like this can help revitalize a low-traffic shopping area and create goodwill with business owners. Review larger local retailers as well, with a discussion of benefits of shopping at larger stores such as return policies and a more varied stock. Include listings for shops that nonprofit organizations run for those who shop with charity in mind.
Budgeting
Whether it is a family of six or an extended family including grandparents and grandchildren, feeding and buying gifts for many people can break a budget. When you detail the ins and outs of entertaining on a limited budget, you help readers in a real-world way. Consider covering things such as setting spending limits on gifts or inexpensive homemade gift options as well as shopping at big-box stores or changing the menu to feed large groups more economically. Although directed at readers with large families, anyone living on a budget should be able to use the tips.
Relationships
Divorced and remarried families may appreciate advice on how to merrily deal with ex-spouses or partners, kids and stepchildren. When you provide solutions on holiday scheduling issues, whether they deal with attending school events together or dividing up Christmas dates, you relate meaningful information to your readers. Interview therapists or religious leaders for additional advice. Expand on step families by writing about bond-building activities for the kids, fairness in gifting and former in-law etiquette at the holidays. Write articles on other relationship issues during the holidays like how to deal with family feuds, adult siblings and hosting grandchildren.