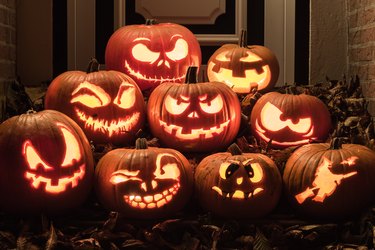 To mix things up a bit this Halloween, suggest a pumpkin carving contest that will have everyone's creative juices flowing. Pick a pumpkin caving theme that will inspire your group and carry out the theme in a pumpkin party revealing the creations. You might be surprised at how original and competitive everyone will become over this festive idea. It may just become a new Halloween tradition to look forward to each year.
Pumpkin Carving At the Movies
If there is a favorite movie enjoyed by you or your family and friends, then create the Halloween pumpkin carving competition challenging everyone must carve a pumpkin that fits with that movie. Whether it is a notorious character from the movie or just a stand out scene, all the pumpkins should represent the movie in some way. Another idea is just to do a broad movie theme. This leaves it up to the individual to decide what famous movie or unforgettable legends will be carved out. Watch some of the movies while carving the pumpkins or after they are done.
Competition Themes In the News
What's grabbing everyone's attention in the news these days? Let the theme for your competition represent the moment. Whether it's music, celebrities, politicians or just a grabbing headline, your group will love creating pumpkins that are relevant. By using a broad enough theme like this one, you are certain to have no two pumpkins that are alike.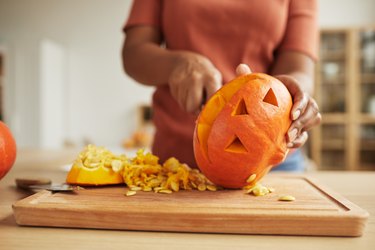 For the sports loving group, challenge them to take one for the Gipper by creating create pumpkins that honor their favorite sports team or celebrity. Some ideas they may consider are celebrating their all-time most cherished player or creating the team's logo. For more of a challenge, place random team names in a hat and have everyone pick. It will take more time to create a winning pumpkin when some research needs to be involved with this pumpkin carving theme.
Choose an area from anywhere in the world and make that your next theme. For instance, you can choose a region like Europe or be more specific and pick Paris. Group members will have to create pumpkins that represent an aspect of the area. A Parisian theme may bring in pumpkins with the Eiffel Tower, The Arc de Triomphe or a beret wearing French man. Play French music at the big reveal and serve chocolate croissants.
Kids Pumpkin Carving Picks
Children often go through phases that commemorate their favorite things of the moment. To choose a pumpkin carving theme, have your children get involved and ask them what they want the focus to be. Children are often more creative than adults and will probably have lots of ideas. Pick one from a hat or have the group vote on which idea they like best. Be enthusiastic about whatever they pick whether it's princesses, pirates or animals.
All kids and most likely as many adults love Disney characters. With decades of superheroes, princesses, animals and even villains, there's something Disney for everyone. This Halloween pumpkin carving competition is suitable for even the youngest of party-goers. You can instruct older kids to carve or paint (or color) pumpkins with Disney characters.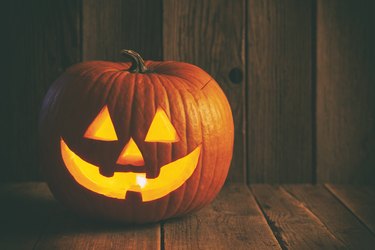 For the littlest ones, simply ask them all to decide which character they'd like to be for the day. Give each an orange paper pumpkin cutout and write his or her Disney name on it. Attach the name tag to the child's clothing or costume with a safety pin, and have everyone call each other by their pumpkin contest names. You can have them decorate pumpkins if you wish, or simply pass out Disney coloring pages to them.