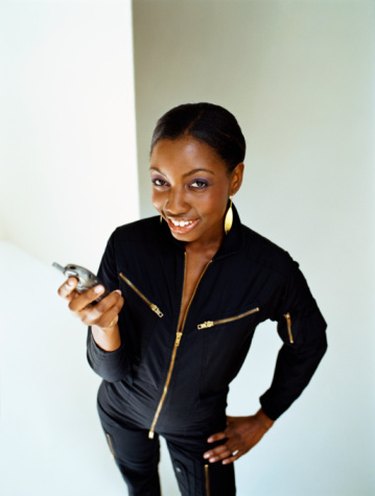 Need a fun, sexy costume for Halloween, a costume party or a comic book convention? Dress up as one of your favorite female secret agent characters from films and television shows, past and present. Putting the costume together requires minimal work. You may even find garments in your own closet, depending on the character you choose.
Emma Peel (The Avengers)
Dress up as the iconic sexy female secret agent Emma Peel from the '60s television show "The Avengers." Get a wig or style your hair in a flip and don a black jumpsuit and black knee-high boots. You can find the jumpsuit in any Halloween costume store, whether local or online. For more authenticity, get a jumpsuit with zippers by the shoulders and above the pants pockets.
Trinity (The Matrix)
Dress up as Trinity from the "Matrix" film trilogy. Wear a sleeveless boatneck black top, black pants and black shoes or boots. You might even be able to find these in your closet, so that you only have to buy the black vinyl trench coat that is Trinity's signature. Find such a coat at a specialty costume shop or online. Slick your hair back and wear some dark sunglasses to complete the look.
Sarah Walker (Chuck)
Agent Sarah Walker from TV's "Chuck" is not your typical agent. She doesn't don a pants suit, nor does she wear the usual black catsuit. One of her many outfits is a dirndl. You can recreate it by wearing a red skirt with white polka dots, a short-sleeved white peasant top and a black waist cinch. Get a blonde wig or if you are a blonde, wear your hair in pigtails.
Olivia Dunham (Fringe)
Agent Olivia Dunham from "Fringe" wears smart tailored pants suits. Dress as her if you already happen to own a black or charcoal gray pants suit. Finish off the look by wearing a white or light blue button-down shirt. Part your hair in the middle or get a dark blonde long-haired wig and part it in the middle.