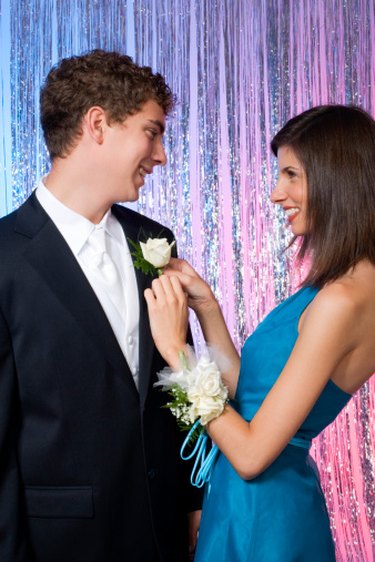 Homecoming dances are an exciting time. High school and college homecoming dances take place in the fall during football season a day or two after the football homecoming game. They are formal affairs where students gather to show school spirit, enjoy each others' company and dance. Corsages and boutonnieres are traditionally worn to homecoming dances.
Corsages
According to tradition, the boy is to buy a corsage for his homecoming date. The couple can go to the floral shop together to select a corsage to match her dress color and style. Homecoming corsages are often made of sweetheart roses, miniature carnations or alstromeria lilies and adorned with ribbons, pearls or rhinestones. The boy should present the corsage to his date when he picks her up for the dance. Corsages are to be worn on the left shoulder or wrist. Wrist corsages are most commonly worn for homecoming dances. They can be attached to beaded bracelets that can also be worn long after the flowers are gone.
Nosegays
Girls can carry a small nosegay rather than wear a corsage to homecoming. Nosegays are a nice alternative to a corsage if you are wearing a strapless dress. A nosegay is a small handheld cluster of flowers such as, miniature roses, daisies, and miniature carnations. Select colors and ribbon accents to match your dress.
Boutonnieres
Proper etiquette dictates that the girl buys a boutonniere for her date. Boutonnieres are one or two blossoms of flowers to be worn on the left lapel of his jacket. The girl pins the boutonniere on her date's jacket when he arrives to pick her up for the dance. Pin the boutonniere with the stem facing down. The corsage and boutonniere can be ordered at the same time so the florist may coordinate them for the couple. The boutonniere should match the color of the couple's attire if possible.
Floral Accessories
Floral hair pieces, rings and necklaces can be worn in addition to, or as an alternative to, traditional corsages. A few blossoms tucked into your hair adds a special touch for a special night. Football mum corsages are also traditionally worn to the football game preceding the homecoming dance. They are designed in the school's colors to show school spirit.