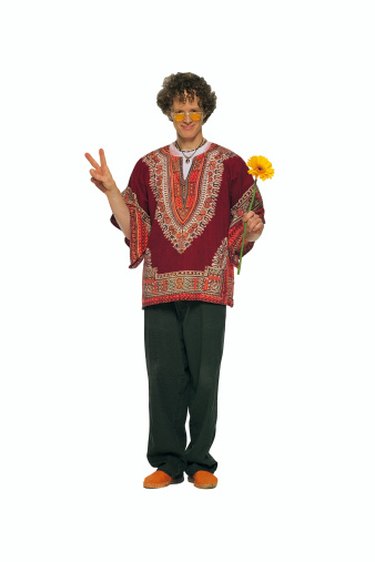 Retro Day is a common theme day for Spirit Week in many schools throughout the country. Spirit Week usually coincides with a school's homecoming football game and is characterized by five theme days where students dress in costume to exhibit school spirit. Retro Day costumes most often revolve around fashion of the 1950s, 1960s, 1970s and 1980s. Wearing the most popular trends is the best way to ensure that others know the era you represent.
1950s
The bobby-soxer style for girls and the greaser look for boys were perhaps the most recognizable fashion trends for young people in the 1950s. The term bobby-soxer refers to the style of dress socks that girls folded down. To get the full look for Retro Day, you'll need a full skirt that falls just below the knee. The poodle skirt is one example of the type of skirt you could wear. A short-sleeved, collared blouse, cardigan sweater, saddle shoes and a neat scarf-tied ponytail complete the look. The greaser fashion trend is largely modeled on the look of popular 1950s actor James Dean. The essential component of this Retro Day attire is slicked-back, greasy hair. Wear black or blue straight-leg jeans with the leg rolled to show off a pair of white socks and Converse All-star shoes. Keep the shirt simple with a white or black T-shirt, topped off with a leather jacket.
1960s
The 1960s saw many fashion trends, leaving you with a wide range of choices for a 1960s Retro Day look. The Mod, or Modernist, look was inspired by British trends. Mod women often wore sleeveless short dresses with knee-high boots, a short haircut and matching headbands; men wore slim-fitting, button-down, collared shirts and slim pants or Levi's jeans. The hippie look of the late 1960s usually included long, flowing hair, a headband and loose clothing. Women and men often wore loose-fitting tunics and peasant shirts. Tie-dye shirts, sandals, flared leg and bell-bottom pants were worn by women and men. Girls also wore a lot of dresses — some were long and flowing dresses, but many women wore short, baby doll dresses with flared sleeves, and accessorized with knee-high boots or cowboy boots.
1970s
Hippie fashion crossed over into the 1970s, so clothing with psychedelic or other loud prints would work well for your Retro Day outfit. Skirts got a bit longer in the 1970s, so make sure yours is just above the knee or ankle length. If you're looking for a retro look that is distinctly 1970s, then disco fashion is the ideal choice. Leisure suits were popular for men, but if you don't have one, wear flared white pants with a colored button-down shirt and a matching white vest. Women's one-piece pant suits with a bold print and halter top are among the iconic disco fashions, but stretch fabrics and hot pants — short shorts — paired with a flowing blouse or jacket also go with the theme. One accessory that all women and men need for a 1970s look is platform shoes.
1980s
Many styles of the 1980s, including stretch pants and wide shoulders, are making a comeback on the runways, so it should be easy to create an authentic 1980s retro look. The fitness craze of the 1980s led to a surge in the popularity of fitness wear, so leotards, leggings, sweatshirts, tracksuits, leg warmers and high-top sneakers could be part of your Retro Day apparel. If you prefer a more formal look, puffy dresses with even puffier shoulders are the way to go. You'll get bonus points for authenticity if the dress is covered in rhinestones or sequins. Men from all backgrounds often wore blazers over T-shirts and tank tops, although some blazers were more subdued than others. Whether you're a woman or a man going for the rock band look, big teased hair is a must. Fun accessories include oversize hair bows, slap bracelets, Ray-Ban sunglasses, Swatch watches and fingerless gloves.