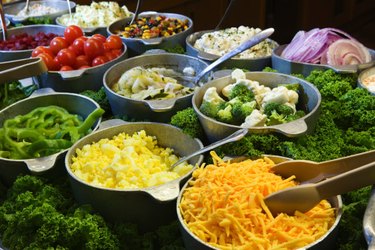 Planning a menu for an afternoon party can be a daunting task. However, with some preparation and research, creating a menu to please a variety of tastes and celebrations can be a breeze. Plan for approximately 5 percent more food than the number of expected attendees. Take into account any food allergies or preferences, such as vegans or celiacs. Once you have those essentials out of the way, you can begin planning for the meal.
Cheesy Chicken Casserole
A heavier option for a late afternoon buffet consists of a chicken casserole with water chestnuts, mushrooms, celery and toasted almonds in a creamy sauce topped with melted cheddar cheese and French fried onions as the main dish. Side dishes to pair with the casserole are green beans and dandelion salad with chopped almonds and Italian dressing. For dessert, offer a variety of fruit tarts.
Parmesan Dijon Chicken
Parmesan Dijon chicken is made of boneless chicken breasts dipped in Dijon mustard and white wine sauce, crusted with seasoned panko bread crumbs and Parmesan cheese. Side dishes are steamed broccoli and rice pilaf. Offer a variety of bite-size cheesecakes for dessert.
Finger Sandwiches and Spinach Salad
Finger sandwiches, such as cucumber tea sandwiches, egg salad sandwiches, or lunch meat and cheese, make for great mid-day party food. Pair this light lunch with a tossed spinach topped with fresh strawberries, hard boiled eggs, croutons and raspberry vinaigrette. Keeping with the finger food theme, offer brownies and cookies for dessert.
Light Hunter's Chicken
Hunter's chicken is a popular buffet item made of boneless chicken breasts sauteed with mushrooms and tomatoes in white wine reduction. Smashed red skin potatoes mixed with a hint of horseradish and sour cream and Prince Edward blend vegetables (green beans, yellow beans and baby carrots) complement the chicken well. To finish the feast, offer assorted two-bite pastries, such as chocolate raspberry brownies, lemon bars and cookies.