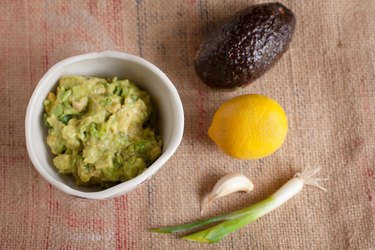 Guacamole might be one of your favorite spreads, but it isn't something you generally eat by the spoonful -- it needs an accompaniment. If you're bored with the usual pita, corn or tortilla chips, don't worry. You have plenty of other options when it comes to serving up this savory dip.
Things for Dipping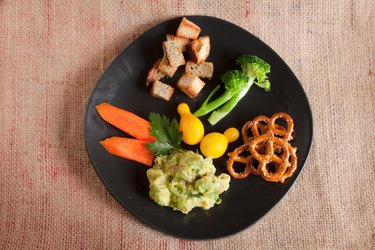 Things You'll Need
Raw vegetables

Crunchy snacks

Bread, various types

Deli meats
Veggies such as baby carrots, celery sticks, cauliflower, broccoli, julienne bell peppers, jicama sticks and grape tomatoes make an array of healthy guacamole dippers. Sometimes you still need that crunch factor, though. Instead of chips, pick up a bag of pretzels, mini rice cakes, croutons, bread cubes or crackers. Don't fret about prepping if you don't have time. Simply roll up sliced deli meats into log shapes and enjoy them as guacamole dippers.
Meats and Seafood
Things You'll Need
Beef, poultry or seafood

Wooden skewers

Olive oil

Black pepper

Sea salt

Lime juice

Cilantro
Season cubed chicken, beef sirloin, scallops, shrimp or pork loin with olive oil, black pepper and sea salt. Slip the meat or seafood onto the skewers and grill until thoroughly cooked -- poultry needs to reach a minimum internal temperature of 165 degrees Fahrenheit, while meat and seafood need to be at 145 degrees F. To help bring out the Latin flavors of your guacamole, drizzle cooked skewers with a little fresh lime juice and a sprinkle of fresh cilantro.
Sandwiches and Wraps
Instead of using overdone condiments -- ketchup, mustard and mayonnaise -- opt for guacamole. It pairs perfectly with just about any sandwich or wrap you can come up with. From a bacon, Swiss and turkey panini to a veggie wrap, guacamole adds plenty of flavor and texture to a dry meal. For a low-carb option, stack your ingredients in the middle of a lettuce leaf, add a dollop of guacamole and roll it up.
Breakfast Dishes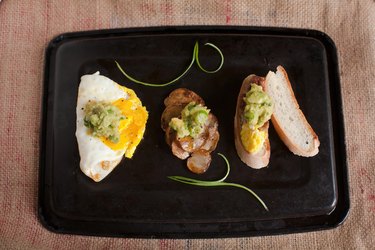 Guacamole isn't just for snacks or dinner entrees -- enjoy it at breakfast, too, especially with egg dishes. Use guacamole for fried eggs, huevos rancheros, omelets or sliced hard-boiled eggs. Or if you like breakfast sandwiches filled with eggs, sausage and cheese, spread on some guacamole in place of butter. Guacamole even pairs splendidly with home fries, breakfast quiche or savory scones, like jalapeno-cheddar varieties.
Other Ideas
Guacamole's natural creamy texture and abundance of flavor make it an ideal salad topper. For even coverage, thin it out with a small amount of olive oil, water or lime juice -- or a mixture of these -- until you get the right flavor and consistency. When enjoying side dishes, skip the unhealthy, fat-laden butter or sour cream. Pile guacamole onto baked potatoes, pasta salad, rice, steamed or grilled vegetables, quinoa, beans or risotto.