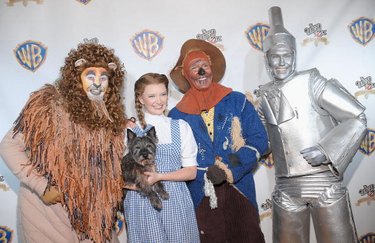 Not only are homemade "Wizard of Oz" costumes generally less expensive than store-bought ones, but they allow you to showcase your creativity and flair. Making Oz costumes can be a family project that will give your children a sense of accomplishment and pride in what they wear to a costume party or on Halloween. Due to the variety of characters, there are many options when choosing a costume to make.
Dorothy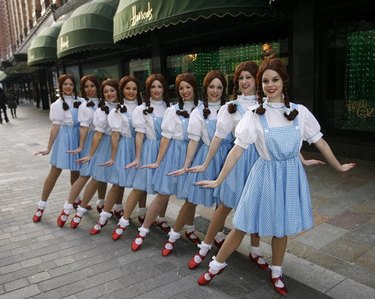 The basic components needed to complete Dorothy's costume are: ruby slippers, blue gingham dress, a stuffed dog in a wicker basket to represent Toto and your child's hair (or a wig made of brown yarn) in pigtails. The slippers are made by spraying any white pair of slip-on shoes with red spray glitter. Do this a day in advance to ensure complete drying time. Blue gingham checked fabric with a little white blouse or T-shirt are enough to make the outfit. Use a dress pattern to create a simple jumper and have the child wear the white top underneath. Tie her pigtails with some scraps from the dress fabric.
Scarecrow
The Scarecrow costume requires an old pair of baggy pants and an oversize long-sleeved shirt. Tie the waist, wrists and the bottom of the pants legs with twine and staple or glue straw, raffia or yellow yarn at the ankles, wrists and collar of the costume to create a stuffed appearance. An old floppy hat and some scarecrow face makeup will complete the ensemble.
Tin Man
Use or buy a gray sweatsuit for your child to wear. Alternatively, use a white sweatsuit and either spray paint it or dye it silver or gray. Wrap silver painted poster board around the body to create a cylinder shape, and cut holes in the sides for your child's arms to fit through. Secure the board with staples or glue. Use additional silver poster board or cardboard wrapped in aluminum foil to make the Tin Man's funnel hat. Secure a red felt heart to the chest. To complete the costume, spray paint old sneakers and gloves silver and paint your child's face in nontoxic silver face paint.
Cowardly Lion
Tan sweatpants and hoodie are the main items needed for the Cowardly Lion costume. With a brown curly wig or brown fur pieces, create the effect of a lion's mane by gluing the pieces to the part of the hood that frames the face. Take a strip of brown felt and glue it to the butt of the sweatpants for a tail. Add a bit of fur or part of the wig to the end of the tail to create a fluffy tip. Furry tan slippers and a painted face aren't necessary, but they will add to the costume's total look.
Wicked Witch
The Wicked Witch is easy to create with just a swath of black fabric cut into a tent-style dress. Cut a hole in the middle to put your child's head through and either glue, staple or sew the sides together, leaving arm holes open. A thin strip of the same fabric can also be used as a belt to be tied around your child's waist. Cut the hem of the dress into points and use an inexpensive black witch hat to complete the outfit. Accessorize her in black tights and shoes. Paint her hands, arms and face with green face paint and hand her a broom as a prop.