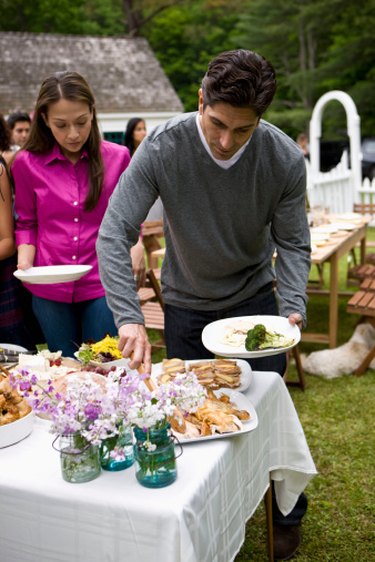 Whether you're organizing a large birthday party for your child or teen, or want to plan a summer cocktail party for you and your close friends, it's a good idea to host the event outside if possible. A backyard party is a great way for guests to enjoy some time in the sun while socializing, and firing up the grill -- along with using fresh ingredients -- will allow you to provide tasty dishes for a large group.
Grilled Meats and Veggies
Purchase pairings of meats and vegetables to make delicious appetizers for your summer party guests. Add tropical flair to your celebration by grilling shrimp marinated in teriyaki or pineapple-flavored soy sauce, and laying the shrimp on a bed of grilled onions and red bell peppers. Small square plates in bright colors like turquoise or hot pink will make for a great presentation and keep the theme consistent, and small amounts of shrimp paired with affordable vegetables is a cost-effective but classy party treat. Or, you can add a sophisticated twist to traditionally Southern BBQ food by grilling chicken wings brushed with brown sugar barbecue sauce. Lay each chicken wing on a pile of grilled coleslaw made of red and green cabbage, scallions, and a mixture of red wine vinegar, brown sugar and Dijon mustard.
Hamburgers and Hot Dogs
Hot dogs and hamburgers are the ideal choice for a kids' or teens' party where the guest list consists of 50 or more people, since these fun foods will feed a large crowd and leave all the partygoers satisfied. Choose hot dogs and beef patties made from all-natural ingredients to give the young guests a healthy meal; lightly season the burgers with sea salt or pepper so that everyone can add the accents of their choice after grilling. Offer an assortment of white and purple onions, slices of American, Monterrey and Swiss cheeses, and a side dish of grilled potato discs. Or, mix a few large bowls of macaroni salad to go with the grilled hot dogs. Fill small ramekins with chopped onion, spicy cheese sauce, tomato cubes and shredded sharp cheddar cheese to top off he party's main course.
Grilled Pizza
Pizza is always a party favorite, regardless of the guests' age, since most people enjoy it and it feeds large crowds easily. For an outdoor party, cooking the pizzas on a large grill will impress your friends, and cooking pizzas with several topping combinations will provide your guests with several options -- which makes the backyard party even more enjoyable. Chop pieces of chorizo or pepperoni to add to a grilled goat cheese pizza, or grilled portobello mushrooms and sliced eggplant for a veggie pizza. Serve guests a platter of gourmet cheeses and appetizers like cherry tomato and mozzarella ball skewers while they're waiting for the pizzas, to stick to the rustic theme.
Grilled Fruit and Desserts
An outdoor event where dessert is the theme means you can use sweet treats like pound cake slices for grilled strawberry shortcake. Since you're providing dessert for 50 people, purchasing the pound cake at your local bakery is particularly time saving, and could be cheaper than baking the cakes from scratch. Or, grill pineapple rings, bananas and strawberries, and provide vanilla ice cream or gelato for guests to create their own grilled banana splits. Skewers of fruit that have been soaked in vanilla, brandy, brown sugar and pineapple juice are a sweet and succulent dessert that will feed a large crowd, especially if you choose affordable fruits like apples, pears or bananas.