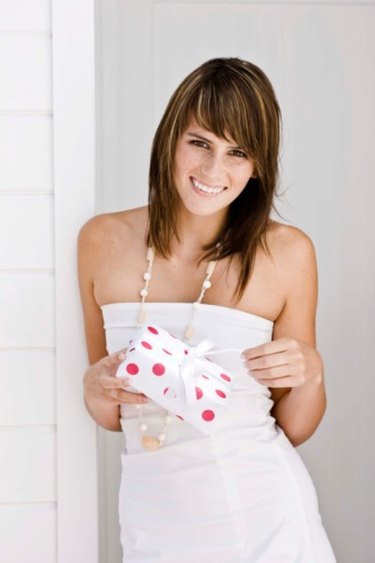 Whether you are searching for a gift for your sister, cousin, friend or girlfriend, finding the perfect gift for a 26-year-old woman all depends upon understanding her tastes and interests. No two women are the same, so your gift should be tailored towards her personality type as opposed to her age. From pamper products to gadgets, there are many options available to suit even the most difficult-to-buy-for woman in your life.
Beauty Addict
If she enjoys taking care of herself, changing her hairstyle frequently or experimenting with the latest cosmetics, there are a whole host of options to choose from. Put together a gift basket filled with pamper products such as bubble baths, lotions, hand creams and face masks. Alternatively, a selection of nail polishes, lip glosses and cosmetic brushes may prove useful. If you are nervous about selecting a specific item, purchase a gift certificate for a nearby spa or salon so that she can indulge in a day of pampering.
Career Woman
At 26 years old she is likely to have left college and be in the process of establishing her chosen career path or profession. Select a gift that will help her throughout her working life such as a new black leather purse, an elegant diary or engraved pen set. If your budget is a little higher, a notebook computer will allow her to access her emails and surf the Internet from anywhere that has a Wi-Fi connection such as a train, coffeehouse or airport lounge.
Adventure Seeker
For women with a sense of adventure, purchase a gift certificate that allows her to try out a new activity or learn a new skill. From whitewater rafting to rock scrambling, the activity you select will depend upon your budget and what is available locally. Trying out a new activity together will give her a day to remember and allow you to spend good-quality time together.
Gadget Geek
For women who adore technology and gadgets, there are lots of weird, wonderful or plain entertaining items to choose from. If she loves to read, an e-book reader, such as a Sony Reader, Pandigital Novel or HanLin eBook, is a must-have item that will save space in her purse and help her to pass the time on the commute to work. If she lives for music, an upgraded iPod or iTunes gift certificate will be a welcomed gift. Alternatively, if she harbors a secret desire to become a pop star, purchase an iKaraoke that will allow her to sing along to the songs on her iPod without the original singer's vocals.