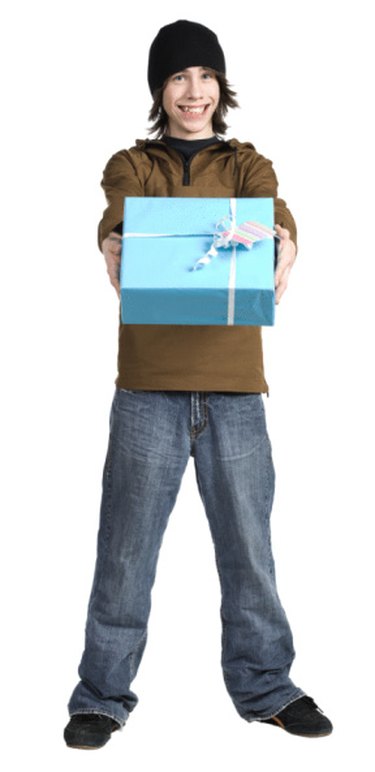 Planning a birthday celebration for a 14-year-old teenage boy can be a challenge. Although he is not a child, he is certainly not an adult yet, so it is important to find the right balance. The parties he once enjoyed as a child are no longer age-appropriate, so plan an activity that relates to his current interests, such as a love of video games or outdoor activities.
Amusement Park
A trip to the amusement park is an activity that your teen can enjoy with his friends or family. Many parks offer group and birthday discounts, so check ahead for a special deal. A day spent riding the roller coasters and playing in the bumper cars will be heaven for adrenaline- and thrill-seeking teen guys. Arrange for him and his friends to visit one of the on-site fast food restaurants to refuel and break away from the rides for an hour or so at lunchtime.
Video Game Tournament
For teen guys who adore computer games, arrange a video game tournament at home. Set up a computer console in the living room and allow him to invite a select number of friends. The boys can battle each other until one guy is crowned the champion. Invite the guests to bring a video game of their choice so they can rotate which games to play. Serve his favorite food halfway through the gaming tournament, such as Mexican or Chinese as an alternative to a predictable pizza delivery.
Camping
Arrange a camping trip for a birthday he will never forget. Visit a local campsite to pitch tents and use as a base to explore. The boys can spend the day hiking, fishing or riding their bikes. During the evening, light a campfire to keep warm and to cook hot dogs and roast marshmallows. Camping is a new and exciting adventure for many teens and a healthy distraction from cell phones, MP3 players and computers.
Laser Tag
An afternoon of laser tag will be a fun treat for teen guys who enjoy competitive games, particularly if the weather is poor and the birthday celebration needs to remain indoors. As the game involves running and hiding, it is also a great form of exercise that will allow teens to burn off excess energy. If you do not have a laser tag center locally, bowling, go-kart racing or paintball are all suitable alternatives.