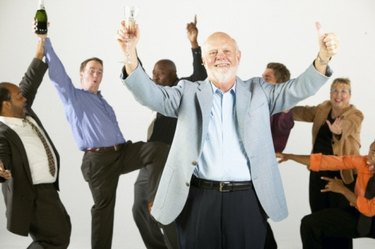 An employee's 30th anniversary at his job is a momentous landmark that's best celebrated by giving gifts. Gifts of appreciation from the company should be personal to the individual so they make him feel all the more special. The employee's coworkers may also choose to participate in honoring their colleague, but the onus is really on the company to spearhead the celebration.
Season Tickets
After 30 years on the job, the sports enthusiast deserves some rest and relaxation. Consider giving him the gift of season tickets to watch his favorite sports team play. If such an extravagant gesture is not doable for budgetary or other reasons, try to purchase a pair of fabulous seats to a game that would be otherwise difficult for him to attend, i.e., a rivalry game, and arrange for a congratulatory message to be flashed to the crowd if that's available.
Spa Gift
A spa gift is the ultimate way to pamper a hard worker who's put in 30 years of service. Women will typically enjoy this type of gift more than men, especially if it entails a full day of spa treatments, including a massage, facial, manicure and pedicure. Do some investigative work to find out which spa she enjoys going to the most so she can schedule treatments with her favorite spa technicians, or choose a high-end spa with a reputation for excellence.
Crystal Toasting Flutes
Champagne toasting flutes made of crystal make elegant anniversary gifts for a 30-year employee. While the employee can't drink the champagne on the job, he can bring the flutes home and enjoy using them with his spouse during their at-home celebration. Crystal toasting flutes should be engraved to always remind the employee of this memorable occasion. It's appropriate to have them engraved with the employee's name, the recognition of his 30-year commitment and the date of his 30th anniversary.
Donation
If the individual being celebrated is passionate about giving money to a particular charitable organization for a good cause, make a company donation in her name as her 30-year anniversary gift. You can present her with the donation certificate in a card, and know she'll appreciate your thoughtfulness.
Gift Basket
Personalized gift baskets can be an appropriate gift for an employee celebrating a 30-year anniversary. A gift basket can include all kinds of goodies, including wine and cheese; fruit and chocolate pairings; or bath and body products like lotions, body sprays, bubble bath and fragrant soaps. For the golf enthusiast, you might include a box of golf balls, golf calendar, sun visor and scorekeeping journal for his adventures on the course.