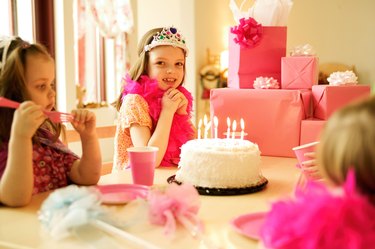 Seven-year-old girls are so precious because they are at an age where they love being girls. They like things that sparkle and they love to pretend to be princesses. Parents can encourage their little girls to remain little princesses by choosing a girlie theme for her birthday party.
Princess Birthday Party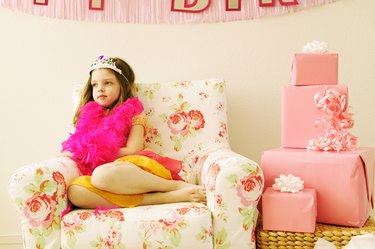 Most 7-year-old girls love to pretend to be a princess. Have your child pick her favorite movie princess, such as Cinderella or Sleeping Beauty, then use characters from that movie to decorate your house. If you choose Cinderella, put some mice in the window or the wicked stepmother on the wall with the evil stepsisters. Give each child a tiara and some fake jewelry to wear at the party, or put them in a goody bag to take home. Roll out a red carpet leading up to the house to show the guests the royal treatment. Have the children make sugar cube castles or play a game of "pass the poison apple" (played the same way as hot potato).
Tinker Bell Birthday Party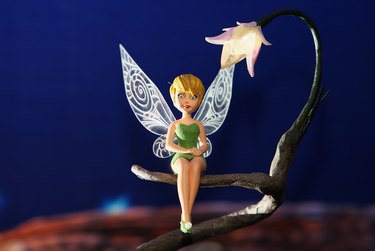 For the little girl who loves Tinker Bell, a Tinker Bell birthday party is in order. Decorate the house with green, pink and white streamers, and incorporate those colors into the party's theme. The little girls can get their nails painted and then have a Tinker Bell sticker placed on their nails. Invite the girls to play a game of "magical pillows" (think musical chairs with pillows) to music from "Peter Pan." Have a Tinker Bell cake and then end the party with fairy-wand craft project. The wands can be made out of rolled up construction paper, tissue paper, fake jewels and glitter.
Hannah Montana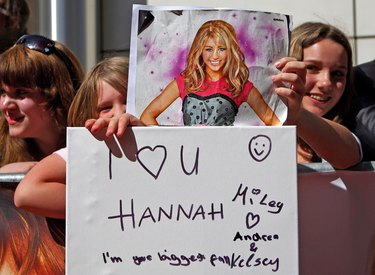 Little girls like Hannah Montana because she's a big rock star who wears lots of cool jewelry. To throw a Hannah Montana party, begin by cutting out pink, purple, and gold stars to decorate the room. Hannah Montana plates, cups, napkins and invitations can be purchased at a department store. Include some Hannah Montana balloons in the decoration. For games, have the kids sing karaoke to one of Hannah Montana's CDs. Have some dress up clothes and let the kids dress up like a rock stars. Use rock star purses as gift bags and fill each one with Hannah Montana stickers, lip gloss, nail polish, and a little guitar key chain.