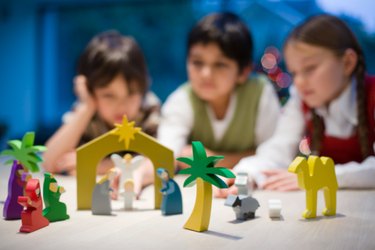 Christmas is a special time of the year in a church because it celebrates the birth of Jesus Christ. You can decorate the church building to reflect the joy and celebration by using seasonal favorites, such as greenery and wreaths, a nativity and even a Christmas tree.
Nativity
Set up a life-size nativity outside in front of the church. These can be inexpensive plastic figures or a pricier set that will last longer. Place a childproof nativity in the Sunday school area and a nice set in the foyer of the church. You can have them set up all over the church if you wish; the nativity scenes do not have to match one another.
Wreaths
Place wreaths on the doors of the church. This looks especially festive on the main front doors. If the sanctuary has a balcony, hang wreaths every 4 to 6 feet. Artificial wreaths will last many years and you can change up the decorations each year.
Bows, lights and floral picks look nice on the wreaths. Use small battery-powered twinkle lights for wreaths so there are no cords hanging from them.
Greenery
Use greenery to decorate tabletops or ledges. Fake greenery can be used, although live greenery looks nice and has a Christmas-y smell. Place greenery along the front edge of the baptismal pool or around tables in the foyer. Purchase long swags of artificial greenery to drape between wreaths; this looks very nice along the balcony.
Lights
White twinkle lights give off a soft glow and look nice on wreaths or greenery swags. Place a strand in a basket filled with pine cones and tie a red ribbon around the handles for a quick light fixture. Line the outside of the church building with white lights or string them up along the ceiling in a fellowship hall or youth room.
Christmas Trees
Set up a Christmas tree in the church. If you don't feel comfortable putting one in the worship center, place one in the foyer. Many churches have trees with the names of needy families on it so members of the church can purchase gifts for them. Have the children in the church make decorations for the tree, or simply keep it plain and simple.