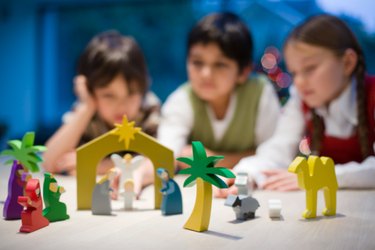 Whether your church is big, small or somewhere in between, beautiful church Christmas decorations make congregants, staff members and worship leaders feel extra special at that time of year. The most important part of the church is the sanctuary, and this is where you should focus your primary efforts. If you are looking for attractive Christmas decorations for your church sanctuary, some holiday inspiration can go a long way.
Church Christmas Decorating Themes
When it comes to how to decorate a church for Christmas, nothing says Christmas like a lot of greenery and lights. Both make sanctuaries feel festive at Christmas time. Many websites share photos of church Christmas decorating ideas that you can use for inspiration.
It is always nice to hang garlands and wreaths or use large red bows and white lights. You could strategically place three large poinsettia plants on the floor; this looks especially good with a white-stoned border or another neutral backdrop. A holy night theme is a great idea. You can hang deep blue or black sheets and attach tinfoil stars and a large Christmas star toward the top.
Many parishioners like using a lot of red and green when decorating at church. You can wrap green garlands around any pedestals and attach large red bows at the end of every (or every other) row of pews. Many decorators like to accentuate the largest cross in the sanctuary. This can be done by draping a white cloth in back and wrapping one or both parts with thick red ribbon.
More Ideas for Decorating a Church Sanctuary for Christmas
Nativity scenes look nice in any kind of sanctuary as long as there is enough room. If there is a large doorway, hang wreaths on the doors and fill any archways with greenery and red accents. You can place one on the main altar or get white paper cutouts of one. You can find these online and in holiday shops. Typically, they have adhesive backings and are easy to put up and take down.
You can also hang gold ribbon or material from wreaths and attach red jingling bells. These are also nice to use in small church foyers and for office and classroom doors. Pine cone wreaths also look lovely.
Is your altar accessible by steps? This is the perfect place for potted poinsettia plants. You can also use these on the steps leading up to the church's front door if there are any. These do not have to be red. Look for white poinsettia plants, mix up the plant colors if you like or maintain a monochromatic color scheme. Another idea is to place candles along the edges of the altar and then add some red or white flower petals.
You can drape white material over the seats for smaller sanctuaries with chairs. Add some artificial Christmas trees at the aisles' ends and decorate them with all-white pinpoint lights. When the main lights are turned down, this creates an almost magical effect.
Other ideas include placing a red carpet down the main aisle, edging it with greenery and flowers, placing pinpoint lights on the main cross and draping it in the front with a sheer white cloth. Doing little bits with seating and aisles can be great small church sanctuary design ideas.