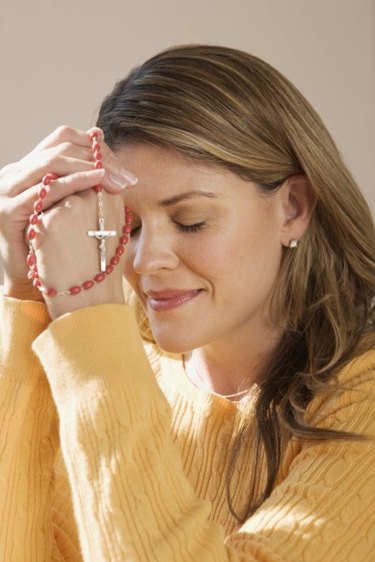 It can be difficult purchasing a gift for your goddaughter's graduation. Your role in the person's life as her godparent is special because it means that you encourage her spirituality. While buying a gift, get an item that reminds the person to pray and continue living with Christ.
Patron Saint Medal
Patron saint medals remind your goddaughter that she can pray to saints about her future. Your goddaughter's patron saint can intercede to God for her. Some patron saint medals are made from precious metals, such as gold and silver. Alternatively, get a money clip with St. Christopher on it because he is the patron saint of travelers. This gift reminds your goddaughter that St. Christopher watches over her while commuting to job interviews and to her job.
Bible
Even though your goddaughter might have several bibles by the time she graduates, she should appreciate a keepsake bible. A quality leather bound bible can become an heirloom that your goddaughter can pass on to her children one day. Have the bible engraved with the full name of your goddaughter. A nice gesture is to bookmark a bible passage about success, such as Psalm 112:3 and Proverbs 3:5-10.
Cross
Buy your goddaughter a cross to remind her about the importance of God in her life. Some quality crosses are made from crystal and they can make a nice mantel piece for your goddaughter's home. Alternatively, purchase a sterling silver cross locket and put a photo of your goddaughter in it. If you attend the graduation take several photos and put one of the photos in the locket for your goddaughter.
Support for a Spiritual Vacation
Some gifts permit your goddaughter to take a spiritual retreat. Encourage your goddaughter to venture to the Vatican and Jerusalem to learn about her spirituality with gifts that might include luggage or airline tickets. If you can splurge, get a package that includes airline tickets and an all-inclusive hotel. Or buy your goddaughter tickets to go to St. Augustine, Florida, which has the oldest Catholic parish in America as well as many other religious relics that can be found in the oldest city in America.