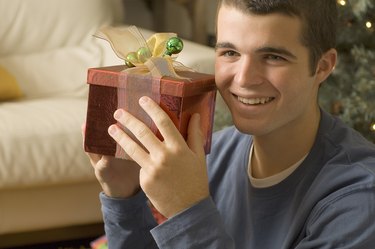 The love a mother gives her son is priceless, but buying him a gift may not be. When choosing a gift for her son, a mother may take the extra time to ensure that the gift is just as special as the bond shared between the two. A mother has insight on her son, such as his profession, hobbies, interests, likes and dislikes, which makes this gift searching task a litter easier.
Mother-Son Poem
When faced with hard times and situations, a son can always use encouraging words from his mother. Sometimes the words are her own, and sometimes the words are from famous quotes or poems that she has read. A mother can give her son a framed copy of a poem that represents a mother and son relationship. Even though the words are not her own, a mother has the option to give the poem her own title. This puts the mother's touch on the gift. The poem can make the son feel closer to his mother when the two are distanced from one another. If he is going through hard or emotional times, he can read the poem and instantly think of the love his mother has for him. Some poems can be customized with a photo of the mother and son, which makes this mother's gift to her son all the more special.
Personalized Sport Gifts
Knowing your son's favorite sport, athlete and sporting team can be beneficial when choosing his gift. You have the option to purchase personalized sport keepsakes that he can cherish forever. These keepsakes include float picture frames, mugs, throws, jewelry, tankards or more. Your son may not just love sports, but working in sports could be his profession. If this is the case, you can personalize golf bag tags or a clip-board and whistle set. The inscriptions on the keepsakes can be from mother to son, your name and his name or any nicknames you two share with one another.
Letters
A very unique gift idea for a mother to give her son is a book she has made of composed letters. This gift is geared more towards a specific event (graduation, marriage or fatherhood) or birthday (16, 21 or 25). This gift is unique and special because a mother plans out the gift years before she gives it to her son. Each year, a mother can write a letter to her son, which pertains strictly to that year. The letters can contain moments that the two have shared, historic moments or any other significant information. When it comes time to give the son his gift, a mother can have the letters bound together in book form professionally, or she can do it herself. It will be fun for a son to go back and relive each year through his mother's letters.