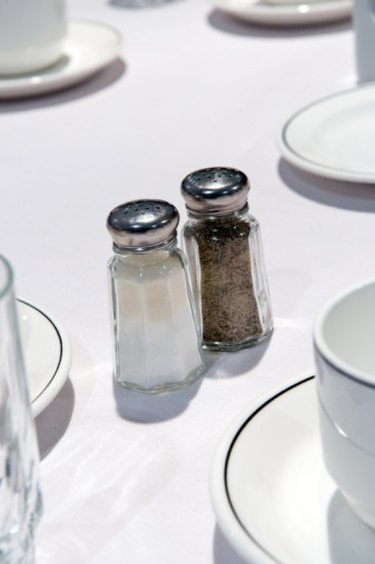 Salt and pepper is a popular costume idea for a couple. Most costume shops sell salt and pepper costumes, but many make you buy both costumes separately, which is expensive. Create your own salt and pepper costume instead using the things you have around the house. Do-it-yourself salt and pepper costumes are cheaper than store-bought and allow you to flex your creativity.
Selecting Clothing
Start with the basics by selecting clothing items from your closet in either a solid white or black color. If you plan on creating a costume in a shaker shape, a pair of sweat pants, long sleeved shirt and sneakers will do. If you want a simple costume made from clothing, use more stylish clothing like a button-down shirt and dress pants for the guys and a cocktail dress, stockings and heels for the ladies. Other clothing items to consider are gloves, hats, jewelry and ties in solid black or white.
Adding Details
At bare minimum you need either a giant "P" or "S" so that people know what you are supposed to be. Use black and white card stock in corresponding colors to create the letters and pin them to your clothing. If you want to look more like a shaker, cut out a shaker shape from two pieces of cardboard and paint them black or white. String the cardboard together to create a sandwich board costume. Create a shaker hat by adding an elastic strap to a pie tin and using a black marker to add dots to the top.
Funny Twists
Add humor to your salt and pepper costume by creating a pun costume. For example, by adding a lab coat and head mirror to your pepper costume you can be Dr. Pepper. Paint an oatmeal canister to look like a battery and attach it to your salt costume to be A Salt and Battery, a pun on the phrase "assault and battery." Wear your salt and pepper costumes with leather jackets, gold chains, high tops and crimped hair to play off the name of the rap duo Salt N' Pepa.
Adding Friends
Salt and pepper costumes are typically considered duo costumes, but you may also have some other friends who want to get in on the fun. Salt doesn't always have to be paired with pepper. Instead you could dress like salt while two other friends went as a slice of lime and a bottle of tequila. If you want to dress up with another couple or duo, add ketchup and mustard to the mix. Pair salt and pepper with sugar and watch as people have a hard time telling salt from sugar, just like in real life.