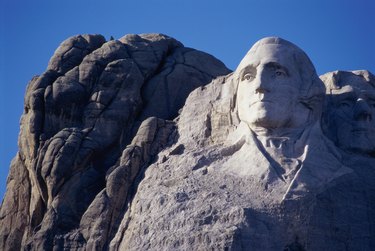 Show some patriotism with a costume inspired by the first president of the United States of America, George Washington. Whether it's for a school presentation, a costume party or trick-or-treating, a George Washington costume provides a fun look while celebrating a well-known historical figure. Best of all, it's easy to put together a George Washington costume from objects found around the house or at a department store.
Outfit
An outfit modeled after styles of the mid-18th century provides an important base for a George Washington costume. For pants, wear fitted trousers or leggings in a solid color, such as black, dark blue or ivory. Roll the pants up so they reach just below the knees, then slip on some pale colored stockings. On top, wear a loosely fitting white button-up shirt or blouse, preferably one with ruffles. If you do not have a shirt with ruffles, pin a ruffly, white lace mantilla to your shirt to achieve a similar effect. Top the outfit off with a navy blue blazer or collared jacket.
Hair
A George Washington costume wouldn't be complete without a dapper powdered wig, which were commonly worn by men during colonial times. Head to the Halloween department of a department store and purchase a white wig with the hair tied back in a ponytail. Alternatively, create a wig by gluing several pieces of white yarn to a foundation such as a cotton lace or fine net cap. Place extra yarn on the sides of the wig to make them appear fuller. And be sure to make the yarn in the back at least a good six inches longer so you can tie it into a ponytail.
Accessories
Adding historical accessories helps make a George Washington costume even more authentic. Top off the child's head with a colonial style brimmed hat or a three-cornered hat. Sewing ornate golden buttons onto the blazer adds a touch of elegance. For footwear, step into shiny black boots or dress shoes decorated with a flashy golden buckle. Other simple pieces, such as a gold watch or handkerchief, add to the costume while remaining true to the historical period.
Props
Props add a final decorative touch to a George Washington costume. Seek inspiration from the 18th century, the Revolutionary War or stories about the nation's first president. For instance, adding some cherries to a pocket and carrying an ax will remind others of the famous tale of Washington chopping down his father's cherry tree. A musket or sword will show off Washington's leadership skills as a general in the Revolutionary War. Alternatively, a feathered quill and a copy of the Declaration of Independence also showcase George Washington's crucial role in the formation of the United States.