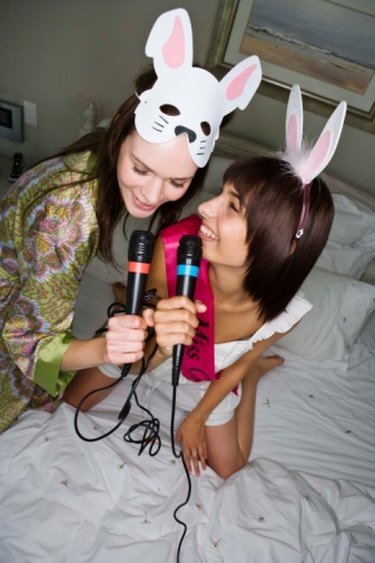 Schools host character days as fun-filled days of dressing up in costume. Students have a good time choosing costumes and coordinating with their friends in themed outfits. The variety of characters is endless and the only limitation to creating a costume is imagination. Use the following four ideas as starters for a character day at school.
Animals
Dress up as animals from a farm, a popular story book, or a movie. Animal costumes range from simple to complex. Ideas for animal characters come from many different avenues of entertainment. Use a Winnie the Pooh storybook, a whimsical Disney movie or a classic farm theme to create character costumes.
Famous Characters
Choose famous characters from television, movies, books or other entertainment venues. Grab some friends and dress up as the original Star Trek characters. Buy fake elf ears and become a Lord of the Rings character or a blue Avatar creature. Choose your favorite television show and dress up as the most popular character, while your friends dress in the character's counterpart. Other characters include politicians, authors, directors or any other person in the current or past spotlight.
Period Characters
Create a character from the sixties, fifties, war periods or any time in history. Have fun with the costume, including details such as wigs and jewelry. Clothing for the character costume can be handmade or pieced together through clothing bought at retail and secondhand stores. Some areas have rental period clothing available for character costume parties. The costume is more fun when the outfit portrays a certain character, such as Marie Antoinette or Betsy Ross.
Dr. Seuss
Choose characters from the extensive Dr. Seuss books to emulate. Dress up as the Cat in the Hat and ask friends to wear Thing One and Thing Two outfits. Cindy Lou and the Grinch are popular costumes. Other characters include the Sneeches, the Zax and the elephant Horton.