It's character day at school this week, so it's time to think up something, fast! Story book characters are great ideas for Character Day, especially if they're easily recognizable, such as any key characters from Harry Potter books, or from classic children's books such as Curious George or a Dr. Seuss story.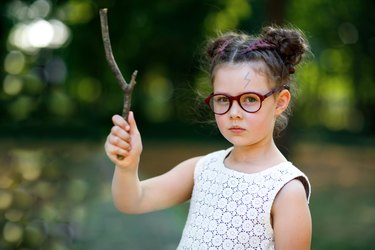 Start by thinking of some of your favorite characters from children's books. For instance, the Man With the Yellow Hat, from ​Curious George​, is immediately recognizable, as is The Cat in the Hat from Dr. Seuss books. Wear yellow pants and a yellow button-front shirt, a yellow patterned tie, tall brown boots and an oversized yellow hat to emulate The Man in the Yellow Hat. Wear a black onesie outfit with a white front area to start your Cat in the Hat outfit. Add a black tail, a red and white tall striped hat, and a huge red bow tie to complete the look, cat facepaint optional.
Cindy Lou Who from ​The Grinch Who Stole Christmas​ is a simple costume to create for a child, while the Grinch is a bit more involved, incorporating green face paint and fake hair color and a green outfit. For Cindy, wear a pink nightgown, tie your hair in pigtails and use flexible pipe cleaners bent into odd shapes, then connected to a hair band to create the weird squiggly things atop Cindy's head. Add red bow-shaped barrettes. For the Grinch, come up with a completely green outfit, including green gloves to be furry hands, and wear green makeup to make your face look more grinchy.
Characters for Teens and Adults
Older kids and adults may enjoy coming up with characters from more mature books, even the well-loved Harry Potter series. To dress as Harry, find some round-framed glasses, then wear black dress pants and a dress shirt with a gray pullover sweater, topped by a black cloak or gown. A maroon and yellow scarf around your neck makes the character easily recognizable. Dress as a time traveler from H.G. Wells' ​The Time Machine​ by wearing old wool dress pants, a brown jacket or coat and a white dress shirt, paired with brown vintage dress shoes.
An elementary-school teacher may enjoy dressing as a character from a book the children recognize, such as Mrs. Frizzle from ​The Magic School Bus​. Find a red, long-sleeved dress, ideally with a white collar, and decorate it by painting planets and similar images on it. Wear a red wig if you don't have red hair. Dress like Amelia Bedelia by wearing a dress and a white maid apron and a bonnet.
Gathering Costume Supplies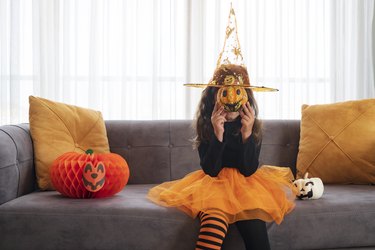 For some outfits, such as Harry Potter, you may already have most of the materials in your own wardrobe. In other cases, the thrift store is your best bet for finding yellow dress pants, an old dress, or accent pieces such as glasses, bonnets, hats or boots. Some thrift stores even have a costume section in the months leading up to Halloween; that's a great place to look for costume onesies and the like. Also, search through their vintage clothing section to find things such as vintage wool pants and coats for a time traveler costume.