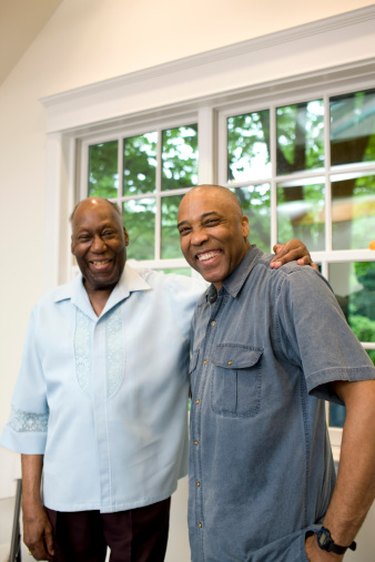 Attending a class reunion is a great way to reunite with old friends, recall old memories and create new ones. Most reunions occur every 10 years, but occasionally you may hear of five-year reunions. A 45th class reunion is a rare event that allows high school friends approaching their senior years to get together for a night of food, fun and entertainment. Classmates will primarily attend to reconnect with old friends; however, they might welcome the opportunity to engage in activities that will make their high school years even more memorable.
Choose a Theme
Select a theme for the reunion based on your graduation era. Your decorations, tablecloths, colors and centerpieces should be reminiscent of your high school years. For example, if you graduated in the 1960s, purchase tie-dyed tablecloths or Beatles and Elvis centerpieces. Copy and enlarge photos of popular movie and television stars of the era and decorate the walls with them. Select menu items that were new or popular during your high school years or have a chef re-create a favorite cafeteria dish. Your theme can also reflect your school colors or your hometown during these years.
Hit Songs From Your Era
Hire a band or disc jockey to play music from your high school era throughout the event or place songs that were popular on an iPod or CD or MP3 player. If you hire a band, have a karaoke contest. Present prizes to everyone who participates in the karaoke event. Use your computer to make copies of the reunion music CD and hand them out as parting gifts.
Classmate Memorial Table
Set up a memorial table as a tribute to classmates who have passed away. Decorate the table with flowers, candles and photographs of each individual. Use high school yearbook photos and the most recent photo of each person if one is available. Display facts about each classmate and have a moment of silence during the reunion to commemorate them. After the moment of silence, classmates or family members can share fond memories.
School Tour
If the 45th reunion takes place at your high school, plan a school tour. Many students may not have toured their school since graduation, making this is a great opportunity for old classmates to relive fun memories. If the school is large, use golf carts or rent a trolley to tour the outside of the school's campus. Contact a current staff member to arrange a supervised tour of the inside of your high school.