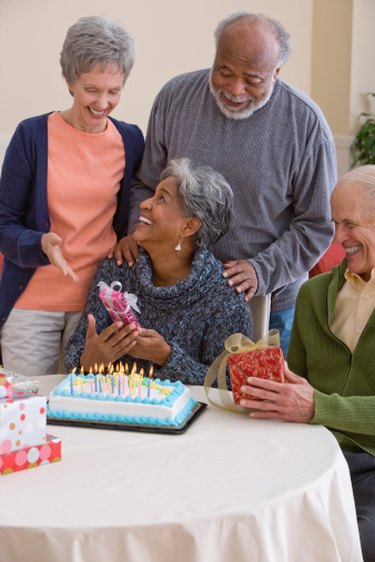 Whether she's retiring from 10 years or 50 years of work, a retiree deserves a celebration at the end of her career. The transition from working to retirement should be enjoyable, so plan a light-hearted party filled with laughs. Retirees who are serious all the time may not appreciate this type of party, but if she can laugh at herself she'll appreciate a humorous party.
Speeches
Rather than listening to dry speeches about the retiree's contributions and career history, have his coworkers and close friends include humorous anecdotes in their speeches. Give each person the same prompt to talk about, such as an embarrassing story about the guest of honor. To make the speeches more interesting, write a series of prompts such as "do an impression of the retiree" or "predict how long it will be before he starts wearing socks with sandals." Put the prompts in a jar and have each party guest pull one out and answer it.
Skits
Get all of the retiree's coworkers together to put on a skit about the guest of honor and her workplace. Coworkers can play themselves or play one another. Avoid making fun of superiors if any of them are in attendance or if any of the "actors" are still working at the company. Have them act out a typical day at the office or act out what the office is going to be like when the retiree is no longer there.
Guessing Games
Put the guest of honor on the spot with guessing games. Don't give him a copy of the guest list so he doesn't know who is coming. At the beginning of the party, have everyone assemble in a room. Blindfold him in another room, then bring him to the center of the party. Invite guests up one at a time and have them give him clues about their identity. He must guess who he's talking to. You can also have guests write trivia questions about the company's history or different company policies and quiz him to see how much he learned during his career.
Gifts
Although you may want to give the retiree a heartfelt gift, first present her with some gag gifts, such as silly T-shirts or hats from a joke store. Present her with a new, cheap alarm clock along with a hammer. Place the clock inside a plastic bag, then have her smash it with a hammer to celebrate the fact that she no longer has to get up early. Have a personalized tote bag made. Cover it with jokes about retirement or inside jokes from her workplace.