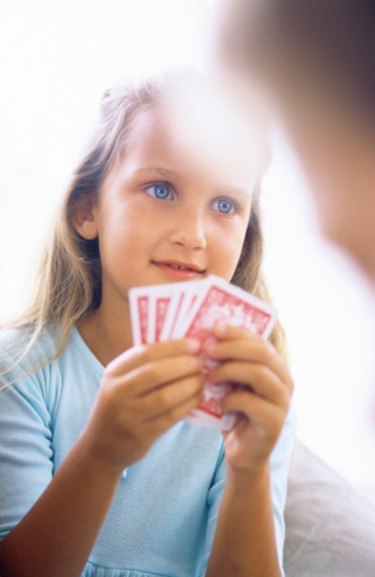 It's your birthday, you have prepared all the details of your garden or baseball party meticulously -- but unfortunately it is raining. As a result, the evening out has to be canceled, your party may not attract as many guests and you will have to hold it indoors. It seems like a disastrous scenario, but there are plenty of activities you can do at home and still have a fun birthday.
Assassin
You don't need any special equipment for this game, only small pieces of paper to distribute to every player. Draw an "X" on one of the pieces before folding them and giving one to each player. The player with an "X" is the assassin, and her goal is to wink to the other players in order to take them out. When a player suspects who the assassin is, he declares "I suspect" and lets the game continue. If a second player declares "I second suspect," the first player gives the name of the assassin. If they are correct, they win, if not, they are both eliminated and the game continues. The rain outside will give an extra touch of suspense to the game.
Movies
A home cinema is not necessary to watch a movie with your friends and family and have a nice time. Just make sure you arrange the seats so that everyone can watch the screen comfortably. Make some popcorn for the guests and offer soft drinks and candies. Switch off any lights, close the doors and enjoy. Since it is raining, a scary movie would be a nice idea, as the rain will reinforce the feeling of threat.
Card Games
When you have only a few guests in the house because of the rain, some rounds of card games can be an opportunity to have a chat but also compete for victory. Not all card games are appropriate for every age group; adults prefer slow-paced tactical games such as poker, where they can test their wits but also discuss different issues. Kids, on the other hand, prefer active card games, where fast moves are essential, such as building card towers.
Karaoke Night
Host a talent show on your living room to forget about the rain outside. You will need a microphone and a karaoke DVD for the ultimate experience, while you can also find karaoke videos available online free. If you don't have a microphone either, use a brush and just sing louder. To make the karaoke night more interesting, set up a small team of judges to declare a winner at the end of the show.