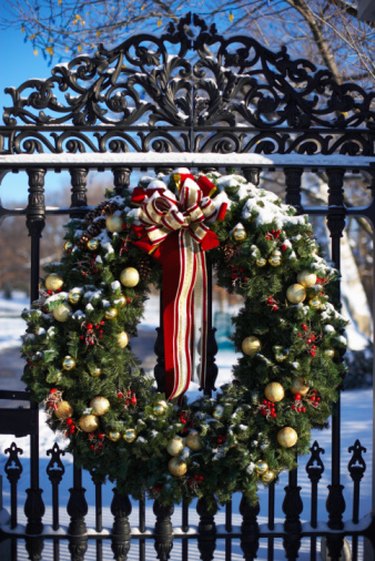 Decorating your house for Christmas is always a joyous event. However, it may be harder to decorate your back or front yard during the holidays. Decorating with lights has been a tradition for years, but struggling to unravel strings of lights and trying to get them to work in freezing weather isn't anyone's idea of fun. Opt for easier outdoor decorations instead -- ones that take only a few minutes of your time to create and display.
Ornaments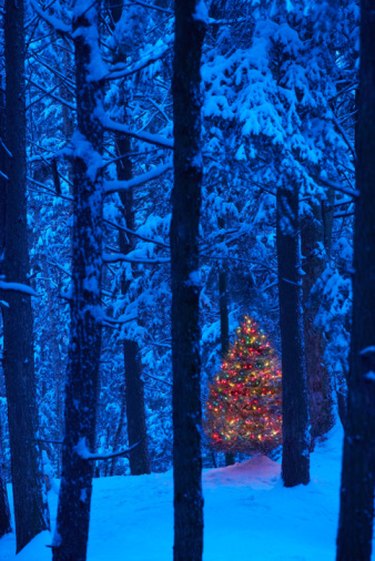 Aside from decorating the Christmas tree inside your home with Christmas ornaments, you can decorate the trees outside your home too. If you have expensive ornaments, you should buy inexpensive ones for outdoor use, so if they break for any reason, you won't feel so bad. Make sure that you hook or tie the ornaments securely in place so that they don't blow away if there happens to be strong gust of wind. If you feel that it's not too difficult, you can even add lights to the tree.
Ribbons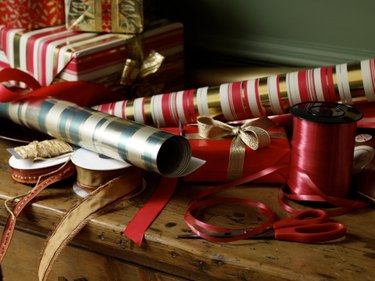 Decorating with ribbons is one of the easiest ways to decorate during Christmas. Splendorette ribbons come in dozens of different colors, although red and green would be the most commonly used during Christmas. These are available in different widths when bought as a roll. Use them to create your own ribbon, or purchase ribbons that are already made. You'll also be able to find ready-made ribbons in different materials, such as velvet, and ribbons that are wired. Wired ribbons allow you to manipulate and retain the ribbon's shape. Wrap the ribbons around a tree or door, tie one around your mailbox or hang a string of ribbons along your fence or the eave of your roof.
Lanterns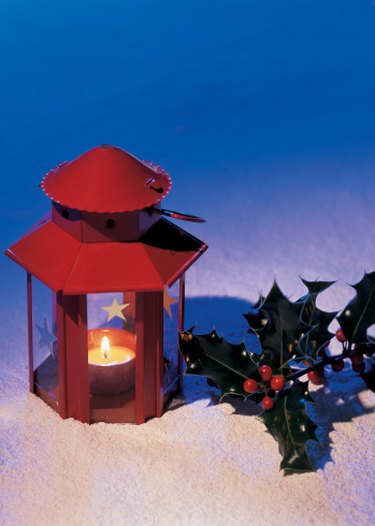 Christmas lanterns outdoors can give your home that warm feeling during cold winters so use a few to decorate your home. Lanterns are available in a wide range of styles, sizes and colors. You can hang several lanterns on tree branches or light a few lanterns and place them by your doorstep. If you have a path or driveway leading to your house, line both sides with lanterns. The glow of the lights emitted from the lanterns will give your home an inviting feeling during the holidays.
Greenery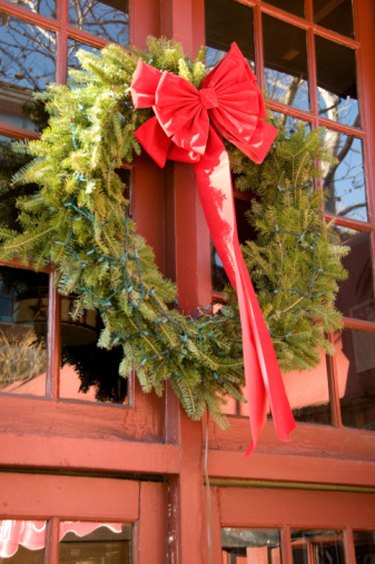 Christmas wreaths are a common site during the holidays. However, this is not the only greenery that you can use to decorate your outdoor space. By using Christmas greenery, fresh cut or plastic, such as holly leaves, green pine needles and needle pine garland, you can create your own outdoor decoration for a bench or windowsill. Use pine cones, ornaments, bells, ribbons, holly berry clusters, iridescent glitter and white snow spray to create your own outdoor Christmas decorations. If you want something even easier, decorate with potted poinsettia plants, a favorite during the season.