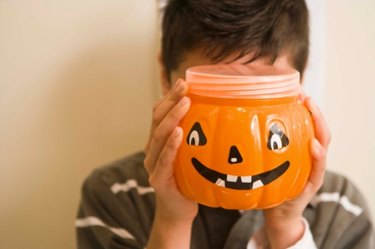 Get your fifth graders into the Halloween spirit with some spooky, silly crafts. The best crafts for 10- and 11-year-olds should be inexpensive and easy, yet impressive-looking and enjoyable to complete. Incorporate a variety of media into your crafts for added fun. Students can use these crafts as decorations, favors or holiday gifts.
Edible Crafts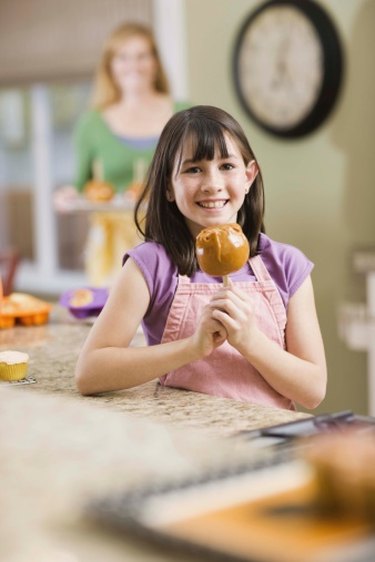 Children enjoy crafts they can eat. Decorate pumpkin-shaped sugar cookies with orange frosting and candy corn. Make caramel apples by pushing a craft stick into the base of an apple, dipping it into caramel and allowing the children to add a topping of choice (sprinkles, chopped nuts, crushed cookies). Make ghost lollipops by placing a 4-inch square of white fabric over a Tootsie Pop. Secure the cloth with a ribbon tied around the ghost's "neck." Affix googly eyes to the ghost or draw on a face, using a fine-tipped permanent marker.
Paper Crafts
Many easy, fun crafts can be made using paper and glue. The curled paper pumpkin is made from strips of orange construction paper curled into small, tight circles. The circles are then glued together to form a pumpkin shape; brown and green strips of paper form the stem and vines.
Hanging boa bats are easy to construct from black card stock, feather boa (for the bat's body), and googly eyes. These furry bats can hang from the ceiling by fishing line for a spooky effect.
Lantern Crafts
Lanterns are a fun way to decorate for Halloween and are easy enough for fifth graders to make. Make mason jar jack-o-lanterns by applying strips of orange tissue paper to mason jars, using Mod Podge. Cut jack-o-lantern facial features out of black construction paper and glue them onto the jars to add the face. Vary the project by using different colors of tissue paper: white paper for ghost lanterns, green paper for Frankenstein's monster lanterns, or purple paper for vampire lanterns.
You can also use plastic gallon-sized milk jugs as ghost lanterns. Draw silly ghost faces on the broad side of a jug with a black permanent marker. Place a battery-operated votive candle inside and watch it glow.
Pumpkin Crafts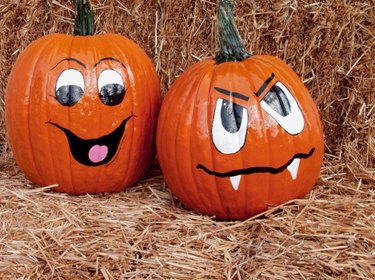 Pumpkin carving is an essential Halloween tradition, but it's messy and difficult for children. Instead of carving full-sized pumpkins, have the students paint faces onto mini pumpkins or glue other decorations, such as googly eyes, pom-poms and pipe cleaners to the pumpkins. Have a contest for the prettiest, spookiest and funniest pumpkins.