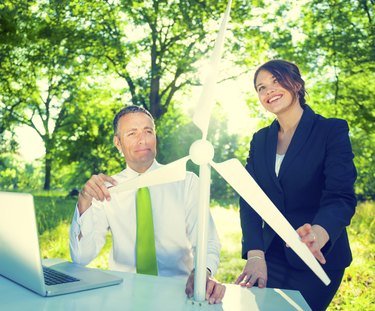 Devoting some time at work to celebrating holidays such as St. Patrick's Day can be an effective way to raise the morale of your workplace and give employees a chance to have a few smiles. Although toasting this March holiday with a pint of green beer won't fly in most workplaces, decorating your workplace, dressing in green and munching on some Irish-themed food can have your party hopping like a leprechaun.
St. Patrick's Day Decorations
A few strategically placed green items around your workplace can transform an ordinary-looking office into one ready for St. Patrick's Day. Green streamers and balloons and shamrock cardboard cutouts placed on walls, hanging from doorways and attached to windows boost the office's fun atmosphere. A green cauldron-style pot, filled with gold-wrapped chocolate coins, gives employees and visitors alike a holiday-themed treat upon entering the office. St. Patrick's Day decorations are prolific in March at dollar stores and big-box stores.
Green Attire
Dressing in green is a simple way that people in your office can get in the St. Patrick's Day mood. Encourage your colleagues to wear bright green shirts and buy a handful of green plastic fedoras to augment each person's attire. Shamrock lapel pins, gold-coin necklaces and even some basic St. Patrick's Day-themed face painting can add to the festive atmosphere. At lunch, hold a costume contest and vote for the person with the most spirit.
Irish-Themed Luncheon
A St. Patrick's Day party at work gives your colleagues a chance to sample some Irish food. Recruit those in your workplace who are skilled cooks and put together a lunchtime buffet that includes Irish staples such as corned beef, cabbage, sausages and potato dishes. For a sweet conclusion to the meal, serve a cake or cupcakes decorated with green and white icing and pass around some cups of Irish coffee.
Irish Music
Boost the St. Patrick's Day cheer of your lunchtime get-together with some traditional or contemporary Irish music. Groups such as the Irish Rovers, Celtic Thunder, the Clancy Brothers and the Irish Tenors can provide the soundtrack to your buffet and costume party. If your workplace spirit is strong, suggest some Irish song sing-a-longs or hire a dancer from an Irish dance troupe to perform or offer lessons to your group.