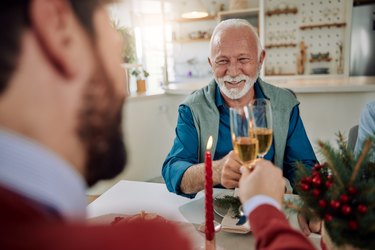 Around the holiday season, many seniors may be alone, and lots of others rely upon the friends they make at senior centers for companionship. Hosting Christmas activities for seniors at a nursing home, assisted living facility or even your home will lift their spirits and build friendships in time for the holidays.
This time of year can be lonely for many seniors, especially if their family members don't live nearby or if they aren't able to drive themselves to visit family. That's why we put together a list of some fun ways to bring the holiday spirit to older adults.
Holiday decorations like Christmas lights, snowflakes and candy canes go a long way toward cultivating the Christmas spirit, but for a truly happy holiday, nothing beats some in-person get-togethers. Whether you are a caregiver planning holiday activities for senior residents or you want to plan a fun Christmas event for the whole family, these activities are sure to bring friends and loved ones joy during Christmas and the New Year.
Host a senior citizen Christmas party or luncheon
Host a senior citizen Christmas party and luncheon for residents in the senior living facility or community. Make festive Christmas dishes such as turkey or ham with all the trimmings, followed by a nice dessert. Play Christmas music and allow people to bond, talk and laugh together. Ask a local school or religious group to have kids come to the senior center and sing carols to the party attendees.
Tip
Line up a piano player and lead the group of seniors in singing some Christmas carols for a little added seasonal cheer.
Organizers should set up fun card games and board games and maybe some jigsaw puzzles for the seniors to play after lunch and entertainment. This is really meant to help seniors interact with one another and come together to celebrate the holidays. This is especially useful for seniors who have little family and rely on the relationships made at these centers and homes.
Let's play Christmas bingo!
Everyone knows that senior citizens love bingo. Well, maybe not everyone, but many do. Host a Christmas gift bingo party. Prepare small, inexpensive Christmas presents for senior citizens and hand out the gifts as prizes for winning bingo.
Tip
Instead of playing for money, host the seniors for free games of bingo.
Have the bingo caller dress as Santa Claus and hand out the gifts after each winning game of bingo. Make sure to wrap gifts, which gives the winning seniors a chance to open their prizes, putting everyone in the Christmas spirit.
Take a drive to enjoy outdoor Christmas decorations
Rent a van and take a group of seniors out through the neighborhood just after sunset. Take them on a tour of the most beautifully decorated Christmas homes.
Tip
Many nursing homes and senior centers have vans or small para-transit buses for exclusive use.
If you live in a neighborhood where homes are clustered together and accessibility isn't an issue, you can also park the car and walk up and down the blocks to look at the holiday light displays, depending on the seniors' physical capabilities.
Have seniors make Christmas decorations and crafts
Host a day of group arts and crafts, which are enjoyed by many senior citizens. Divide the seniors into small groups and have them make Christmas decorations to hang up throughout the senior care center or nursing home. Activities can include drawing, painting and making a collage.
Tip
This is also a great opportunity to make Christmas cards for family members and other seniors.
On another day, use the Christmas decorations to brighten up the center. Have the seniors participate in adding traditional Christmas decorations throughout the center or home. Decorate a Christmas tree as well. Make it a group effort and get everyone involved. This is sure to spread some Christmas spirit.
Christmas can be a lonely time of year for many seniors, especially those in a care facility. Organize one of these fun activities to bring the Christmas spirit to the seniors in your life.