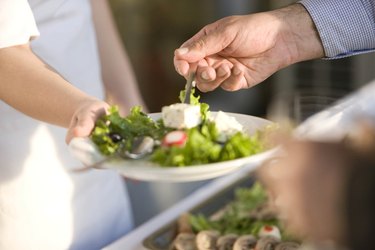 For some, the words "salad bar" automatically bring to mind the image of wilted iceberg lettuce, a couple of croutons, some shredded carrots and a glob of orange-red dressing. Salad bars do not have to be boring. There are seemingly endless options that are healthy, colorful and tasty. A salad bar is one easy option for giving party guests or diners plenty of variety. From vegetables to chicken to dried cranberries and sunflower seeds, there is no shortage of things to add to a salad bar.
Vegetables and Fruits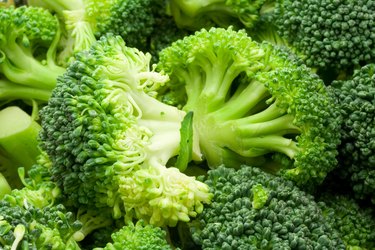 A salad bar almost always begins with the salad. Choose a variety of leafy greens like spinach, kale, romaine and spring salad. After the salad, nearly any vegetable is suitable as long as it is cut or bite-sized. Use what is in season. Popular choices include cucumbers, snow peas, shredded carrots and zucchini, sliced mushrooms that are either raw or marinated, artichoke hearts, diced bell or banana peppers, cherry tomatoes and olives. Raw broccoli and cauliflower florets are more healthy vegetable options. For fruits, mandarin oranges, grapes, blueberries, strawberries and apple slices work well for salad bars.
Proteins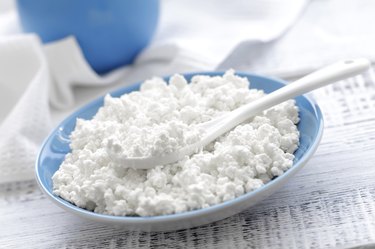 Vegetables and fruit may not be enough to make a meal for everyone. Add proteins like cut and cubed chicken, ham and turkey, or tofu for a vegetarian option. Think outside the box and add quinoa and couscous -- two uncommon sources of protein. Small shrimp, hard boiled eggs and tuna salad are also good selections. Other sources of protein include rinsed and drained garbanzo beans and black beans as well as cheeses. A few cheese choices are cottage cheese, feta cheese, goat cheese crumble or shredded Parmesan and grated cheddar.
Toppings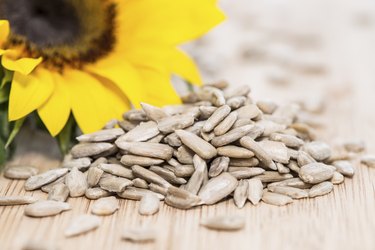 Salad toppings have come a long way from croutons and shriveled pieces of bacon. Provide dried fruits like cranberries as well as sunflower and pumpkin seeds. Add walnuts, pine nuts, slivered almonds and crushed peanuts for crunch and even more protein and healthy fat. To get a serving of carbs without going the old fashioned dried bread route, try small, torn pieces of pita bread, Fresh herbs like basil, dill and tarragon can also be a welcome addition.
Dressings and Oils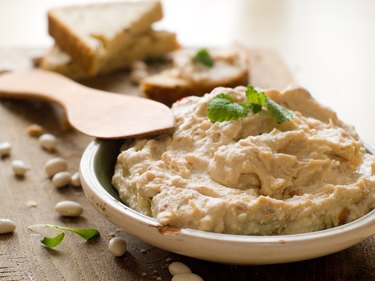 Salad bars typically include the standard dressings in regular, light and fat-free versions. Diners will look for standbys like ranch, Italian and French. Those who are more health-conscious may prefer a light vinaigrette like raspberry. Salads can be dressed with more than bottled sauces. Add balsamic and red wine vinegar as well as extra virgin olive oil. Salsa is another option that goes well with a salad made of black beans and chicken. Hummus, sour cream and plain yogurt with honey can also be used.