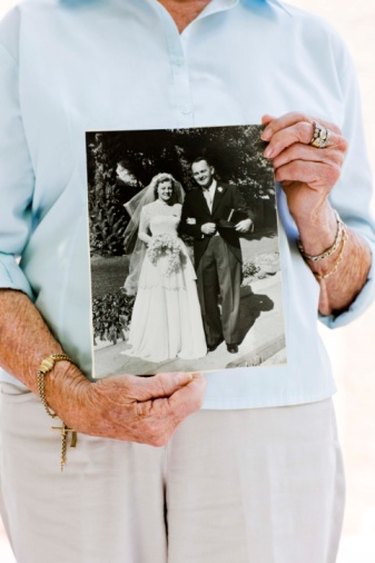 Out-doing a 60th birthday party on the 61st birthday can be a challenging task. Even if you can't out-do the previous bash, you can still make it special for a loved one. Whether you are planning a silly or serious party, you can make it just as memorable as the year before, if not more so. Start planning well in advance to assure ample time for inviting out-of-town guests and creating the perfect atmosphere.
Way Over the Hill Party
A take-off on the traditional over-the-hill party could be a way-over-the-hill party. The invitations and decorations can depict a person sliding down the other side of the hill. You can encourage guests to bring silly gag gifts, write funny poems for the honoree and even sing "Sunrise, Sunset" or other appropriate songs.
Back to the Oldies Party
Host a 1950s dance party for the 61-year-old. Have guests come wearing '50s era clothing. Decorate with old records hung from the ceiling and tacked to the walls. This party will be full of leather jackets and poodle skirts. Play 1950s music and make room for a dance floor. This theme can also be done for the 1960s and 1970s, since those are the eras when the person you are celebrating was a teenager and young adult. Consider renting a banquet room or dance hall for the occasion.
Memories Party
Create a slide show from photos collected from family and friends of the guest of honor. This party should be planned well in advance so there is plenty of time for collecting the photos. In addition, have each guest bring a special, tasteful memory to share with the party. Have a specially decorated chair for the birthday person to sit in for the slide show and memory sharing from the guests. This is a special time for everyone and sure to be a birthday party for all to remember. Whether the slide show is done with slides and a projector or on a computer, it will be something that the guest of honor will be able to take home and enjoy.
Dinner Party
For someone who honestly does not want a big deal made out of his or her birthday, a classic dinner party is ideal. A small, intimate family-and-friends dinner can be at a home or restaurant. Sending out formal invitations with a choice of entrees or the menu that will be served is a nice touch and helps plan for the amount of food to make or order. Use the time between dinner and dessert to open presents.