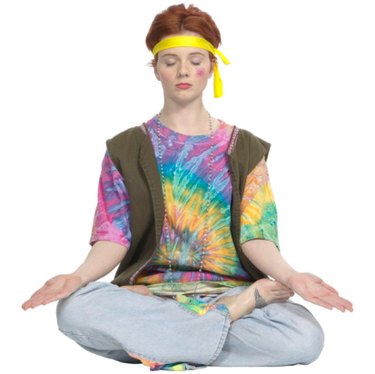 The 1960s was a decade marked by cultural revolutions, political achievements and scientific milestones. It was also the age of psychedelic music, hippies and Tang. For your next theme party, you should revisit this eventful time in American history.
Food
Every authentic 1960s-themed party must have a few signature dishes from the decade. A fondue set, Swedish meatballs and buffalo wings (they were first made in 1964) are must-have items. For a more formal menu, consider dishes such as beef Wellington (pastry-wrapped beef tenderloin), steak Diane (thick steaks with a peppery sauce) and curried chicken. Dessert options include chocolate fondue, fudge bundt cake, cherries jubilee and grasshopper pie (chocolate and mint cream pie). Lastly, Tang and sherbet punch (rainbow sherbet with pineapple juice and ginger ale) are two suitable choices.
Decor
To decorate your party area, look for items such as shag rugs, bead curtains and old vinyl records. Find old '60s movie posters to hang up on your walls. Also, feature tie-dye and psychedelic colors heavily in your party. You may even want to have your guests wear tie-dyed shirts and other '60s-era clothing.
Music
A good 1960s party must also have good 1960s music. The definitive band of the 1960s in most people's opinion was The Beatles, so any of their hits would do well at your party. Other popular bands of the decade include the Rolling Stones, the Doors and the Who. You can also play music from other genres that was popular at the time.
Activities
Your 1960s party would not be complete without party games. A 1960s-themed trivia contest or games of charades would be engaging for a large crowd (though this idea is better suited to an older audience who may actually remember the decade). Also, you can host a 1960s dance contest featuring popular dances of the period such as The Twist, The Mashed Potato and The Bird. Lastly, a 1960s movie and television show marathon would fit well into your party.