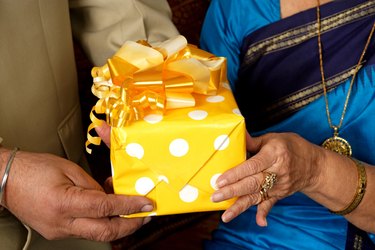 The 50th wedding anniversary is labeled the "Golden Anniversary," with "gold" being the classic theme. If you are throwing a 50th wedding anniversary for a couple or are buying them a gift for their anniversary, they will appreciate your creativity and thoughtfulness.
Jewelry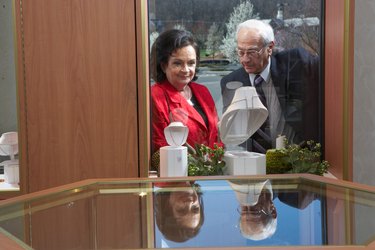 Because gold is the theme for 50th wedding anniversaries, gold jewelry is a natural and classic gift idea. To make a gift more personal and creative, consider getting the woman a gold locket with pictures of the couple inside. You could get the couple matching gold watches that are engraved with the date of their 50th anniversary. You could purchase for him a set of gold cuff links with the anniversary year engraved on them and for her a charm bracelet or ring with the year engraved on it.
Clothing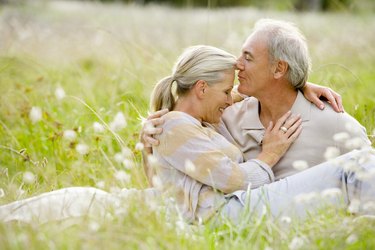 Consider purchasing matching gold-colored cardigans for the couple. The color will highlight the importance of the anniversary and the cardigans will prove to be practical and considerate. If they are not the type of couple who wear cardigans, consider other types of apparel, like hats, scarves and gloves.
Photo Albums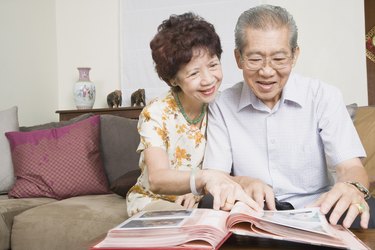 After 50 years of marriage, couples generate a lot of memories. Consider compiling pictures of the couple through the years and arrange them chronologically. This collection of pictures should include pictures of the couple with their children and grandchildren. Arranging them chronologically will allow the couple to see how they and their relationship changed through the years. Don't forget to label the pictures with dates, locations and names, if possible, so that the couple don't have to guess about the details of any of the pictures.
Honeymoon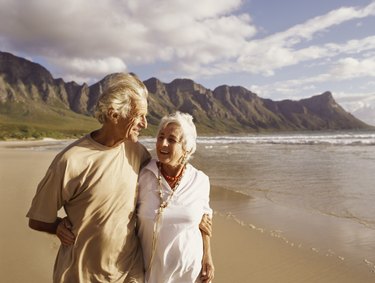 If you have the money, consider recreating the couple's honeymoon. For example, if the couple went on a cruise for their honeymoon, consider booking the same or a similar cruise for them. You could also recreate the couple's first date, or the proposal scene, by purchasing them a gift certificate to the restaurant they patronized or the movie they went to see that night. This gift idea reminds the couple of the romance they share.