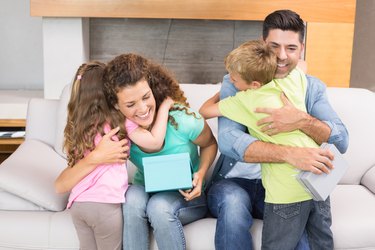 Perhaps you remember when, as a child, you presented your parents with an imperfect but lovingly crafted gift, and they said they loved it because you made it. Now that you're grown and want to say "Happy Anniversary" to your parents, remind them of the happiness they share with each other and you by giving them a lovingly gift created with your own hands and from your heart. Perfect or imperfect -- they'll love it.
Anniversary Memory Book
Since you will eventually add photos to an anniversary scrapbook, choose paper, pens and stickers labeled "archival-quality" or "photo-safe." Before adding mementos such as admission tickets, restaurant menus, baby announcements and newspaper clippings, treat them with spray-neutralizer, so the acid doesn't shorten photos' longevity, suggests the Wisconsin University Extension.
Select photographs that illustrate your parents' marriage and family. Leave blank pages for this and future anniversaries. Slip photos into stick-on inserts, leaving space for writing, which can be done in various ways:
Use the book to tell the story of your parents' courtship, marriage and child-raising.

"Tell" page-length stories with chronologically ordered pictures and captions.

Journal your sentiments. Add quotes, poems and your parents' words of wisdom and signature expressions.
Love Branching Out
Since a tree symbolizes longevity and family, honor your parents with an anniversary family tree, beginning with a tree you draw with colored pencils on a piece of paper from an artist's sketch pad:
Draw the quintessential kissing tree -- an oak tree -- or one of your parents' favorite trees.

Draw a heart on the trunk and write your parents' names with their wedding and this anniversary date inside it.

Draw a branch for each child and grandchild. Write their names inside hearts that hang from the branches. Or place the kids inside a treehouse or on a tire swing.

**Alternatively, cut and paste a picture of a tree**, and decorate it with computer printouts and photos of your parents and kids.

[Create a rustic twig frame](https://www.ehow.com/info_12340437_diy-rustic-twig-frame.html) for your picture.
Woodsy, Romantic Decoupage
Decoupage on wood, using a ready-made decoupage sealant or one you make with equal parts of school glue and water to create a picture to commemorate your parents' anniversary. For parents who enjoy country or mountain decor, decoupage the picture on a rustic but sanded slab of wood such as pine.
Use a wood-burning or engraving tool to write an anniversary message on the wood. If a child is helping, supervise any handling of tools.
Place the photo on the slab of wood and brush on the decoupage sealant, gently rubbing out bubbles and covering the entire slab. After it dries, add other embellishments if you like, such as a picture of a pair of bluebirds in a nest.
Basket of Love
If you have siblings, make your gift a group project, each sibling contributing something fashioned using one of his special talents. For example, a child or adult who enjoys writing poems can write one to commemorate the special occasion, using elegant stationary or a pretty font on the computer, and then framing it. A food-art enthusiast might make a cookie bouquet decorated like your mom's favorite flowers, your dad's favorite color, and their wedding and this anniversary's dates. If one of you is into graphics, print paper napkins with photos of your parents or create fabric prints on linen or cotton napkins.