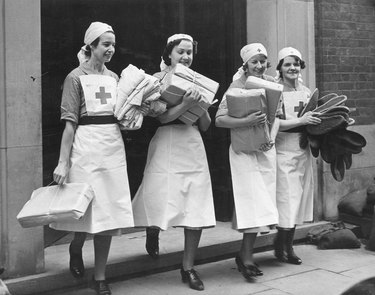 Clara Barton was born in 1821 and was known for being a teacher, humanitarian, nurse and the founder and president of the American Red Cross. Since she was alive during the 1800's, her style of dress is distinctively Victorian, with its high collars, long flowing skirts and lace-up boots. With a little ingenuity, you can put together a Clara Barton costume for a wearer of any age.
Dress
Clara Barton wore long-sleeved dresses with a hoop skirt. Any period-style dress in a neutral color or black will work for this costume. Look for a dress with slightly puffed sleeves and buttons up the front, since Barton was often photographed in this style of dress. You can rent a dress like this at a costume shop or look at antique stores for an authentic version. If the dress does not have laced cuffs and collars, cut your own from a piece of white fabric and sew on to the ends of the sleeves and around the neckline. Also, Barton sometimes wore a bustle. Add some padding to the back of the dress to achieve a more Victorian look.
Hair Style
Barton wore her hair up. She often wore it in braids that she pinned to her head, but was also photographed with her hair in a bun at the back of her head. If you have long hair, experiment with different styles, using bobby pins to secure your locks. You can also use a long wig and pin it up to match a photograph of Barton.
Shoes
Barton wore tall boots with laces up the front. Many different styles of lace-up boots will work for this costume. If you are concerned with authenticity, many antique and vintage clothing stores sell boots in this style, though they are often small, so if you have large feet you may have a hard time finding some that fit. Make sure they are in a dark color, preferably black.
Accessories
As a nurse and the founder and president of the Red Cross, Clara Barton often wore a small cross pin on her chest, and a small triangular nurse's hat. Try creating the nurse's hat with a red cross on it yourself out of fabric and cardboard. These accessories will help others identify the subject of your costume, and will complete Barton's look.