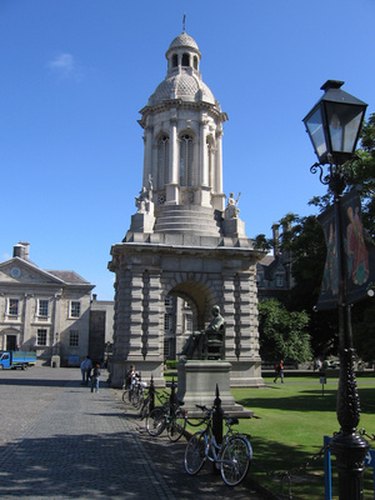 Many people choose to delay their college education for a few years and go straight into the workforce. These individuals choose to attend college later, after narrowing down what they want to study or perhaps raising a family. Many adults also must go back to school to get a master's or doctorate degree. Going to school as an adult is often harder due to increased responsibilities. Celebrate older students' achievements and dedication with age-appropriate gifts.
Career Gifts
Most adults who are going to college also have a job. Many adults work a full-time job in the day and attend classes at night. Show your appreciation for your student's hard work with useful gifts he can use in his work environment. A business card holder is an excellent gift, as is a desk organizer. Professional-looking portfolio cases can help make a positive impression at work or during the job-seeking process.
Computer Case
A computer case is a handy tool for someone who carries her laptop to and from work every day. It's not only a functional gift, but it also enhances her professional appearance. A computer case can also act as a safety feature, hiding the computer from everyone's view. You can also give the student an iPad or Tablet case as an alternative.
Comfort Gifts
Most adults who go to school work really hard for extended periods of time. Sympathize with the amount of time and effort your student puts into working on his studies with the gift of comfort. Give him a free pass to his favorite place to relax. Gift certificates to spas, golf courses, restaurants and even hotels will be much appreciated. You can also give food gifts, either a large gift basket or month-to-month food delivery.
Technology Gifts
Technology is a large part of the career and academic world today. Embrace this fact with a choice of a technological gift. USB ports are always handy for transferring files around the office. A daylight lamp for her desk will help her reduce eye strain. A holder for an MP3 player or other music device will keep it from cluttering up the desk. Headphones or ear buds are useful companions in many offices for improving concentration.