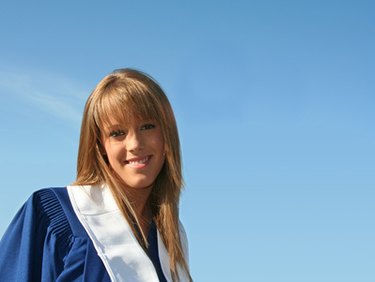 Middle school graduation is a milestone occasion in a student's life. It is a special moment marking an adolescent's transition on the path of adulthood as she enters high school. Giving a special gift honors the occasion and encourage a student's continued academic achievement. For your daughter, niece, sister or friend, giving a gift that inspires and brings her joy shows that you care. It is also a symbol acknowledging the bright future that is in store for her.
Jewelry
Females of all ages enjoy items that sparkle and shine. An engraved locket or bracelet to remind her of this special moment in her life would be a wonderful gift. A string of pearls is a must have for every young woman that can symbolize the beginning of her transition into adulthood.
Inspiring Books
Give her a copy of books that most inspired you. It can be a book of poetry or a biography of an accomplished leader. Popular teen books are also ideal choices.
Clothing Gift Card
Every young woman wants a new wardrobe for high school. Rather than trying to decide what's hot and what's not in the ever-changing world of teen fashion, purchase a gift card to her favorite clothing store. This will also give her a chance to pick out exactly what she likes so that it's something she wears.
Flowers
Delivering flowers on graduation day adds to the festivity of the occasion. Showering the graduate with a bouquet of flowers such as roses or carnations right after her big moment on stage will make her feel extra special and loved.
Money
Give a graduation greeting card with cash or a check enclosed and you can never go wrong. Cash-strapped teens will appreciate spending money for shopping or hanging out with friends.