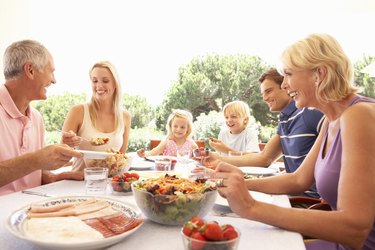 Unless you cook for a living or come from a very large family, the notion of preparing a meal for a sizable crowd can be intimidating. Thankfully it's not really as hard as it sounds, as long as you think things through ahead of time. Avoid last-minute preparation -- a sure recipe for unhappy last-minute surprises -- in favor of foods that are easy to heat or cool, and require little effort during the luncheon itself.
Pulled Pork Sliders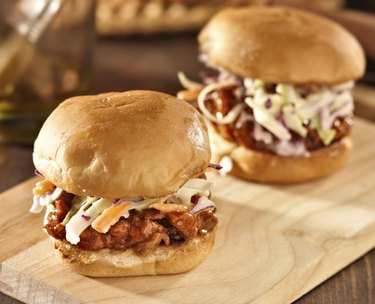 Things You'll Need
Pork shoulder

Barbecue sauce
Pulled pork requires some effort in advance, but it's perfectly good if made up a day or two ahead and then reheated in time for lunch. You'll need 4 to 6 ounces of finished pork per person, but allow at least a pound of uncooked pork to arrive at that total after the bones and fat are removed. Slow-roast your pork in an oven, a countertop roaster, a large slow-cooker or a traditional charcoal-fired kettle, as you wish; then shred it and mix in the sauce.
Slide 'Em on Out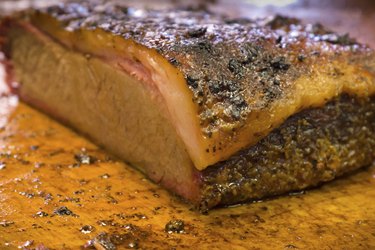 Things You'll Need
Slider buns or other small, soft rolls

Cole slaw, pickles, green salad or other side dishes

Beef brisket (optional)

Slow cooker or countertop roaster (optional)
Size-small buns are the key to portion control with your pulled pork. Slider buns are widely available from most supermarkets and bakeries, but you can use soft dinner buns if they're the easier option. Set out slaw, pickles and a green salad, and let your guests help themselves. If you're in beef country, feel free to substitute brisket for the pork, or set out both. Reheat the meat as needed, or keep it warm at the serving table in a slow-cooker or countertop roaster.
Chili and Sides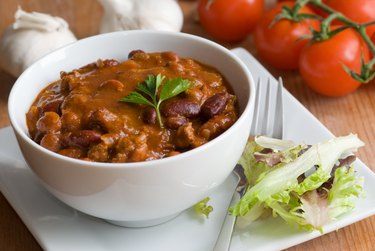 Things You'll Need
Chili

Small bowls

Side plates

Dinner rolls, salads or other side dishes

Sour cream, shredded cheese and other toppings as desired
Chili is one of the easiest crowd-pleasers to make, and it's reasonably economical as well. With a few pounds of inexpensive beef -- and beans, unless your guests are purists -- you can provide a hot and hearty lunch option for any number of guests. Serve the meaty favorite in small bowls, with a side plate for dinner rolls, corn chips, salads or other side dishes. Set out sour cream, shredded cheese, chopped green onion and sliced or pickled jalapenos as toppings.
The Soup Option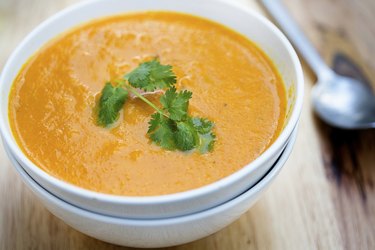 One or more flavorful soups might just be the easiest and lowest-cost luncheon for a group. Universal favorites such as chicken noodle can work on their own, or provide the choice of a brothy soup and a cream soup to suit varying appetites. If your guests include a significant number of vegetarians or vegans, pureed vegetable-based soups, such as carrot-ginger or squash and maple, provide a satisfyingly thick, hearty texture without relying on cream.
The Potato Bar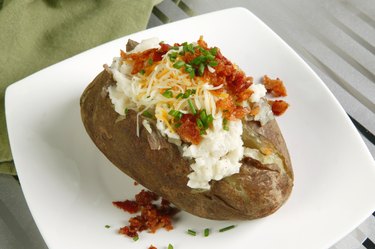 Things You'll Need
Russet potatoes

Sheet pan, or countertop roaster oven
Serve-yourself options are a way to reduce your workload as host, and a baked-potato bar is both fun and logistically uncomplicated. The potatoes can be smaller at lunchtime, rather than steakhouse-sized behemoths, so regular supermarket russets work just fine. You can load 10 pounds, or roughly 25 to 30 potatoes, onto a large sheet pan or into a single countertop roaster oven. Transfer the hot spuds to your serving table at lunchtime to join a range of toppings in individual bowls or dishes.
Toppings-Palooza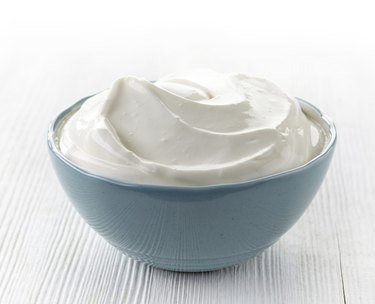 Things You'll Need
Butter

Sour cream

Buttermilk ranch dressing, or low-fat plain yogurt (optional)

Crumbled bacon

Shredded cheese or cheese sauce

Diced peppers, steamed broccoli or other vegetables
Butter and sour cream are the classic topping starting points, though you can stir things up a little by offering buttermilk ranch dressing or low-fat plain yogurt as alternatives. Cooked, crumbled bacon, shredded cheese or cheese sauce add savory flavors to the humble spud, and colorful vegetables such as diced bell peppers or steamed broccoli, add nutrition and flavor along with their bright hues. Be sure to set out lots of serving utensils to allow for dropped spoons and minimize double-dipping.
DIY Sandwich Bar ...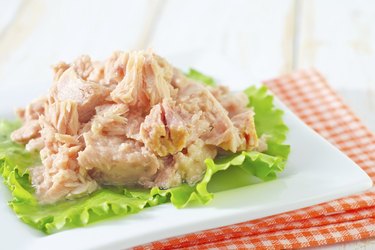 Things You'll Need
Mixed rolls and sliced breads

Condiments

Cold cuts

Salad-style sandwich fillings
Sandwiches made up ahead of time are often rather sad-looking by the time lunch rolls around. Letting your guests make their own individually is a much better idea, requiring less work for you and making more fun for your guests. Set out baskets of rolls and sliced breads, bowls or squeeze bottles of condiments, and several kinds of sliced cold cuts or prepared fillings such as tuna salad or egg salad. Nestle the plates and bowls into containers of ice to keep the fillings cold and food-safe.
... Or Wrap 'n' Roll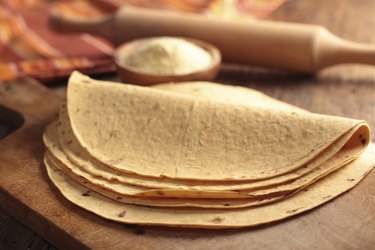 Things You'll Need
Flour tortillas

Gluten-free wraps

Pita bread

Lavash
Remember, sandwiches don't always need to be made on ordinary bread. As an alternative to plain ol' slices, set out a stack of flour tortillas or gluten-free wraps, split pita breads, lavash or other flatbreads. Their rolled shape means they'll hold loose, salad-style fillings that would be problematic with conventional sandwiches and reduces the likelihood of your guests dropping fillings on their clothes. Just remember to provide a surface where your guests can roll up their newly assembled creations.
Mix and Match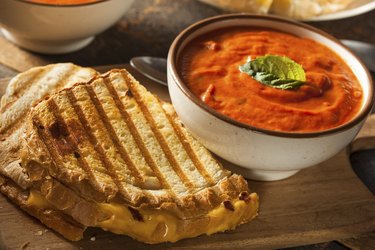 To accommodate especially large and diverse crowds, mix and match two or more of these suggestions. Soup and sandwiches are natural complements, for example, and baked potatoes make a fine -- if unconventional -- side dish for pulled pork. Many of the garnishes and toppings served with chili work equally well with baked potatoes, and chili can be a topping for spuds. Use your imagination and find pairings that give you the maximum mileage in exchange for your time and effort.
Warning
Perishable foods such as meats and fish shouldn't be left at room temperature for longer than 2 hours. That's not often an issue at lunch, because it's seldom a long and leisurely meal, but it's still a factor to be aware of. If you're unable to provide beds of ice or freezer gel packs to keep food cold, it's best to set it out in small portions and replenish your table frequently.