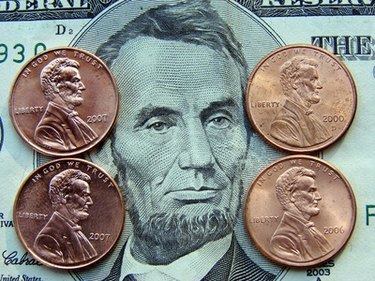 Creating your own costume can be a satisfying project done with many common clothing items found at home, although it may also require a few small purchases from your local Halloween or costume store. There are a number of easily recognizable famous people that can be depicted with some simple accessories and make-up. Always have visual references handy to help you successfully complete your look.
Einstein
Create an Einstein costume with a few items like a suit, crazy hair and a mustache. Use a dark colored suit that you already own or purchase an inexpensive one from a local thrift or second hand store. You can also just use any dark colored pants and dark blazer that you may have lying around. Make sure to wear a white collared dress shirt and large dark tie. You can even throw a simple dark sweater over this, with or without a jacket. Use a tussled short gray wig and adhesive gray mustache to finish off the look. You can find both of these items at your local Halloween or costume store.
Abraham Lincoln
The 16th president of the United States also has a look that is easily replicated, except for his tall stature of course. A dark blazer and pants with a white collared dress shirt are necessary for the costume, as is his famous top hat. You must also wear a black bow tie. Obtain the hat and beard from your local costume store. You can also find vintage hats at many thrift and second-hand stores. You can create a mustache-less beard by using costume make-up or a dark-colored women's eyebrow pencil.
Charlie Chaplin
Use a similar style of suit for Charlie Chaplin as those used for the Lincoln and Einstein costumes. Dark pants, a dark jacket or blazer, a white collared dress shirt and tie are all important for creating the basis of the look. Mr. Chaplin was also known for his dark mustache, derby hat and walking cane. You can find these items at most costume stores. You can make a derby at home with cardboard, masking tape and black spray paint. You can also use a dark-colored women's eye liner pencil to create a mustache.
James Dean
The iconic image of James Dean is represented by a look that is basic and familiar, particularly the style he portrayed in his film "Rebel Without a Cause." All that is required is a basic pair of blue jeans, a basic T-shirt, some styled hair and an optional jacket. Make sure to roll the pant cuffs a couple of times as well as the sleeves of the T-shirt. You can also wear a simple collared jacket in a light fabric, perhaps even in denim. The hair should be blow-dried and styled with hairspray into a 1950's style men's bouffant. The cool attitude is optional.