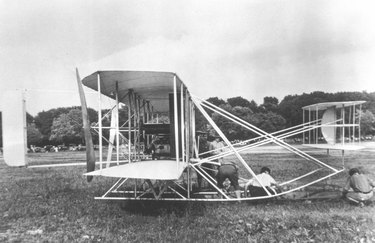 Whether your child wants to dress up like Orville Wright for Halloween, a party or the annual Wright Brother's Day on December 17, you can pull together a costume to teach him about the first man to soar in a "flying machine." Originally the co-owner of a bicycle shop, Orville and his brother Wilbur invented the first successful airplane. Orville was born in 1871, enjoyed flying kites as a child and spent many years working in aeronautics.
Suit
Begin your child's Orville Wright costume with a three-piece suit that includes dress pants, a vest and a suit jacket. Dark, subtle colors like charcoal gray or navy blue are appropriate for a suit from the early 1900s (khaki would also work). Parents can search for authentic wool suits in vintage clothing stores or in a grandparents' attic, but be sure to wash them well before wearing. If you cannot locate an authentic suit, dark slacks and a sports jacket from a department store will work well for the costume.
Shirt
Layer the suit over a button-down dress shirt in white or blue cotton fabric. Clip-on cuff links can add an old-world look to the shirt along with solid-colored braces or suspenders. Your child can elect to wear a necktie with his costume or leave the top button unfastened for a more casual look. For cold-weather months, add a knee-length, black topcoat over the suit to keep your young Wright brother warm.
Accessories
You can be as creative as you like when accessorizing the Orville Wright costume. A derby hat or a newsboy cap can add a sophisticated or relaxed look to your child's outfit, depending on which one he chooses. Orville Wright wore a mustache, so consider taping on a large, bushy, black mustache on your inventor's upper lip for a touch of whimsy. Complete the outfit with a pair of black or brown dress shoes.
Other Additions
If your child would like to add a little more flair to his Orville Wright costume, he can carry a toy with him. Take some time to assemble a wooden recreation of Orville and Wilbur's first flying machine or get a miniature bicycle to represent the Wright brothers' most successful ventures. Smaller versions of the plane and bike make excellent lapel pins that you can attach to your child's jacket to help better identify his costume to admirers.