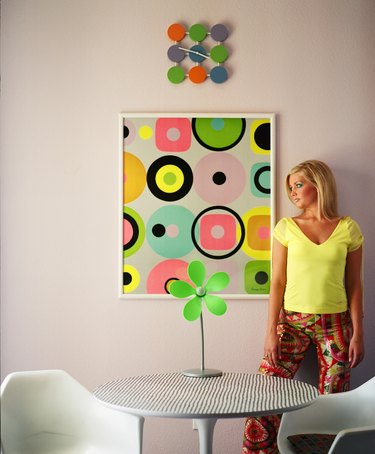 Create a contemporary psychedelic vibe by mixing vintage and modern pieces. Designers and home goods stores offer reproductions of midcentury modern furnishings that possess the futuristic charm perfect for this design scheme. Psychedelic décor is based on the flower-power movement of the 1960s, and is represented with a rainbow of bright colors and groovy patterns such as swirls and bursts. Add psychedelic accents in your apartment, but avoid over-the-top kitschy decorations. Instead, rely on fabrics, vases and prints in wild patterns and bold color combinations. Decorate with psychedelic flair, yet aim for the uniformity of tasteful modern design.
Psychedelic-Mod Tables and Chairs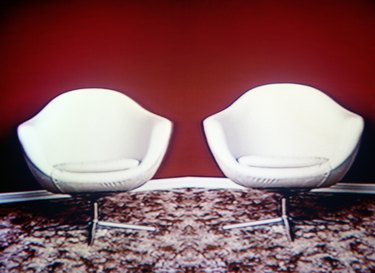 The chairs and tables of the 1960s combine psychedelic and modern elements in their designs. Psychedelic-inspired furniture contains unique shapes such as globes, and rounded edges instead of straight lines. Look for shiny vinyl materials coupled with stainless steel-pronged bases, or patterns with large blocks of contrasting colors. Kidney- and boomerang-shaped tabletops support the psychedelic modes of yesteryear but provide modern flair. Complement your living space with chairs in the Danish modern style, too. Select ball, swan or egg chairs to add psychedelic ambiance to your apartment. Keeping the shapes and fabric colors of the chairs similar will maintain a sleek look.
Psychedelic Murals and Poster Art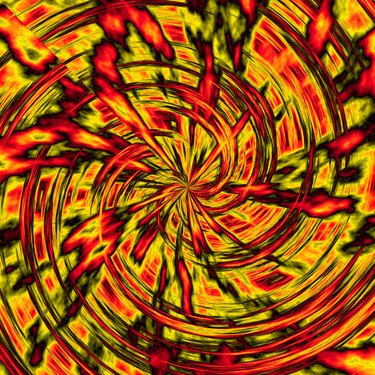 Accent your apartment with psychedelic-inspired wall art and murals. Choose murals and posters containing vibrant colors and swirling patterns. Psychedelic art is all about color combinations that pop, from pink and aqua-blue to orange and neon-green. Promotional concert posters from the 1960s and 1970s function as creative statement pieces, too. Select artwork with portraits of Woodstock-era musicians surrounded by peace signs, curvy typefaces and flower buds. Explore the works of classic poster artists Alton Kelley, Stanley Mouse and Wes Wilson, known for their particularly psychedelic creations.
Merge a Psychedelic Focal Point
Pick one wall as the backdrop for a large psychedelic mural or artwork. Be sure the art covers at least half the space on the wall. In another room, display a series of framed psychedelic posters in one row, or formulate a pattern design by hanging the frames at different heights. Using modern frames for the psychedelic art will merge the two design concepts. Choose art in similar colors to create a common feature, but change up the images. Variation on a theme makes for an engaging focal point.
Combine Psychedelic and Modern Accessories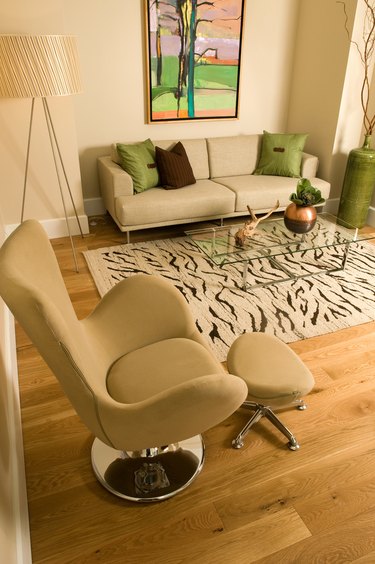 Add the final decorative touches from striped lampshades to bright modern pottery. Reinforce the psychedelic motif with a shag or animal-print rug in a color that ties in with the focal point or furniture. Enliven a modern couch with pillows and throws containing zigzag patterns or bright solids. Illuminate your apartment with lighting specific to psychedelic décor, such as hanging globe and starburst-type fixtures. Dress floor or table lamps with drum or cone lampshades common to psychedelic styling. In the kitchen sit paisley or polka-dot kitchen towels and potholders alongside modern appliances and gadgets.