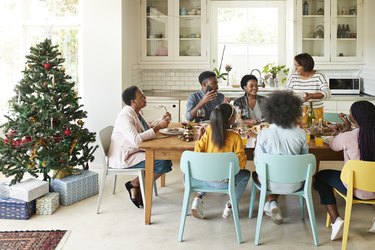 A Christmas luncheon is a tricky event to dress for, as it requires both festivity and decorousness. All-out glamorous looks, like satin cocktail dresses or dark suits, are too dressy for daytime. And luncheons are often relatively formal meals, so you don't want to look sloppy or underdressed. At the same time, the event is a celebration, and drab or stuffy outfits don't convey the proper holiday spirit. To strike the right tone, take the formality of the venue and group into account, and then aim for a crisp, fashionable look with just a touch of sparkle or drama.
For company Christmas luncheons, go a bit dressier than your ordinary work wear. If you usually wear a button-down shirt and wool trousers, add a silk tie or a blazer. Make a plain knit dress more festive with a sparkling necklace, bright scarf or jeweled sweater. If your workplace is very casual, dressing up may mean wearing dark-wash jeans and a wool sweater. For a work luncheon, you need not dress much differently from usual, but subtle touches of holiday spirit are appropriate.
Christmas Luncheons With Family Members
If your family holds a Christmas luncheon, dress to fit the setting and to please others. This is the perfect time to make use of gifts: wear articles of clothing and jewelry that you've received from relatives attending the luncheon. Regardless of whether you love the items, the gift givers will appreciate the gesture.
For formal luncheons, dresses, tailored skirts and trousers, pretty blouses, crisp shirts, ties and blazers are appropriate; for casual luncheons, khakis or pants, collared shirts and sweaters fit the bill. Don't wear jeans, sweatshirts or athletic shoes unless your family is laid back about attire.
For luncheons with friends, pull out stylish and special pieces of clothing. This is your chance to wear clothes you love, but can't wear often. Unearth treasures from your closet, such as a spangled top, a velvet blazer, a striking piece of jewelry or a favorite silk blouse that's too revealing for work.
Dress to look your best and please yourself, but also keep comfort in mind. After luncheon, you may want to stroll and shop for presents with your friends, so choose comfortable footwear and a warm coat.
About That Holiday-themed Apparel
For any Christmas luncheon, stay away from cheesy holiday-themed garb. Reindeer ears, Christmas sweaters, loud holiday ties and head-to-toe red and green will make you look silly. Subtle holiday touches, such as a red sweater or a tie with tiny snowflakes, are acceptable. If your family has given you Christmas sweaters and accessories as gifts, wear them to a luncheon only if they don't compromise your dignity.
Luncheon Attire When You're Just Not Sure
When in doubt about luncheon attire, opt for smart casual for business luncheons, happy hours and office parties.
Men should choose collared shirts paired with dressy trousers and loafers. Women may wear button-down tops and blouses paired with dress pants or a pencil skirt and high heels.