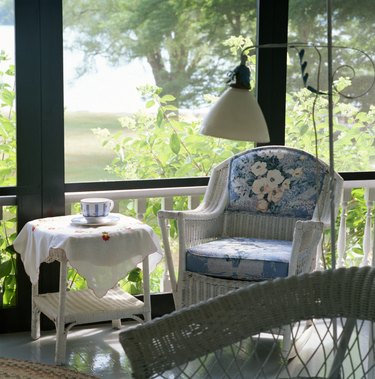 Sunrooms typically are unheated rooms that rely on panels of windows for light and warmth. In mild climates, these rooms may stay at a relatively stable temperature year-round, but in areas with cold winters, temperatures may fluctuate widely, potentially damaging carpeting. Sun and moisture exposure are also detrimental to carpets. Select carpets designed for sunrooms and regularly maintain them.
Tip
Sponsored tip: Need tools for your project? Check out RentalHQ and get connected with local businesses that'll help you rent the equipment and tools you need.
Type
The best wearing carpets for a sunroom are those labeled indoor/outdoor carpets. These carpets have come a long way since the days of bristly carpet resembling grass. You'll find attractive Berber carpets in neutral colors that resemble indoor carpeting but are more durable and may be treated to resist mold, UV damage and stains. Regular indoor carpets must be installed in rooms with air temperatures between 65 and 95 degrees Fahrenheit, according to the Carpet and Rug Institute, which makes them possibly unsuitable for most sunrooms.
Materials
Most indoor/outdoor carpets are made from Olefin, a synthetic fiber valued for its water-resistance and durability. The process used to dye Olefin fibers makes them resistant to fading. Indoor/outdoor carpets typically have a rubber backing, rather than one made from laminated jute or woven synthetic fibers. This backing, which can be glued directly to cement or plywood substrates, is less likely to separate from the carpet than traditional backings if it gets wet.
Installation
Another advantage of indoor/outdoor carpet is that it doesn't need to be nailed down, as it can be glued into place. Adhesives specifically designed for indoor/outdoor carpet cost more than tape or regular carpet adhesive, but will perform better in the long run.
Care
Indoor/outdoor carpet is made to resist stains and mildew, but if problems do occur, you'll have more treatment options than you would with regular carpet. Because of the special dying process used to color Olefin fibers, homeowners can safely use a diluted chlorine bleach solution to kill mold or remove stains. Vacuum carpets weekly and blot up spills promptly.