Things You'll Need
Spanner wrench or ratchet and socket

Screwdriver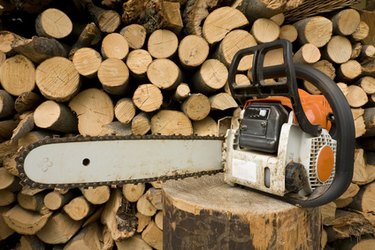 The Husqvarna 455 chainsaw comes in several different models, but each has the same basic configuration. They all come with a mounted chain fresh from the factory and a spanner tool that is both a socket wrench made for the chainsaw bar nuts and a screwdriver on the end to put tension on the chain. You can find replacement chains at virtually any hardware stores, local, small-engine repair shops and Husqvarna dealers in your area.
Step 1
Engage the chain brake on the 455 by pushing it forward until it locks into place.
Step 2
Remove the bar nuts that secure the clutch cover onto the chainsaw, which will be located on the right side of the saw. Use the socket on the spanner wrench or a regular ratchet with the appropriate socket.
Step 3
Pull off the clutch cover to expose both the chainsaw chain bar and the drive sprocket.
Step 4
Push the chain bar all the way back over the bar bolts, as far backward as it goes.
Step 5
Loop the chainsaw chain over the drive sprocket, making sure that the sharp edges of the teeth on the top of the chain are facing forward or away from the chainsaw proper. Fit the drive links on the bottom of the chain into the groove on the bar and work your way around the bar with the chain, fitting it correctly into place within the groove.
Step 6
Replace the clutch cover once the chain is in place and then hand-tighten the clutch cover nuts into place.
Step 7
Insert the screwdriver end of the spanner wrench into the chain-tightening screw. The screw will be located to the lower right of the clutch cover nuts. Turn the screw clockwise to tighten the chain to the correct tension until it no longer sags on the bottom of the bar. Correct tensioning will allow the chain to move freely around the bar by hand, yet there will not be any noticeable sag on the chain. A regular screwdriver also works for this application.
Step 8
Tighten down the clutch cover nuts with the spanner socket, or ratchet and socket.
Warning
Always wear gloves to prevent lacerations when putting any chain onto a chainsaw bar.