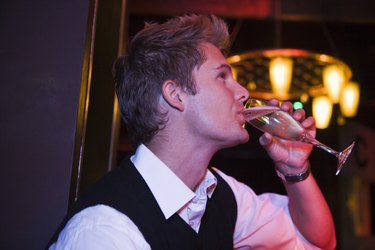 New Year's Eve and New Year's Day parties are synonymous with going out with friends and enjoying alcoholic beverages while ringing in the new year. While you can still go out with friends and not drink, it can be difficult to refrain from imbibing when everyone else around you is enjoying alcoholic drinks. There are several other ways to ring in the new year without resorting to alcohol.
Entertainment
Go see a movie or attend a community play. Movie theaters are open on New Year's Eve and New Year's Day. Some might even have midnight showings of new movies to ring in the new year. Community theaters may offer special showings of a play. Check your local newspaper or online to see what shows are playing and plan accordingly.
Church Activities
Local churches may have a potluck dinner or community party to celebrate the holiday. If not, be proactive and organize an event. Start planning at least a month to six weeks before the holiday. Consider making it an event for the less-fortunate, offering food, fellowship and blessings for positive changes in the upcoming year.
Stay in
You don't have to go out to have fun. Invite a few friends over to your place, get in your pajamas and turn on the TV. Have a movie marathon or watch regular television programming. Look through cable television programming for the holiday. Network television shows the famous New York City ball drop at the stroke of midnight, so you can feel like you're part of the festivities without actually being there. Provide lots of good food and non-alcoholic beverages.
Exercise
Get active, instead of dribing too much. Run a race on New Year's Eve or New Year's Day. Go out at night for a walk with a friend or significant other. Walk, rather than drive, to any fireworks celebratings the new year. If your gym is open over the holidays, get a head start on a resolution to shed 20 pounds in the coming year.