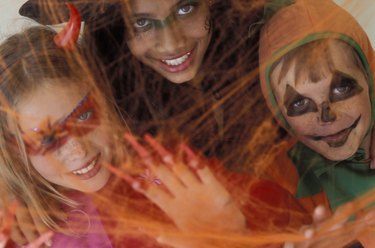 Halloween has grown in popularity over the years, and haunted houses have become a very popular attraction for children and adults alike. A school carnival is not complete without a haunted house, especially during the Halloween season. There are many different types of haunted house scenes and most are fairly simple and inexpensive to set up. Always consider safety concerns when setting up a haunted house so everyone can have an exciting but safe experience.
Creepy Carnival
A creepy carnival is a fantastic idea for a haunted house attraction. The creepy carnival is a scary version of the traditional school carnival. Games could include an eyeball toss or bobbing for eyeballs. Halloween-themed prizes, such as glow-in-the-dark spiders or skeleton rings, will be sure to thrill the children. You could even have a fake tattoo booth with tattoos of spiders and skeletons or a face-painting booth with ghosts and goblins. The possibilities are endless. Don't forget to include a scary clown or two.
Fortune-Teller Tent
A spooky fortune-teller is a wonderful idea for a haunted house at a school carnival. Children can pay admission to have their fortunes told by a costumed seer in a tent. To add extra scare factor, put fake spider webs and spiders on the wall and play creepy music. Make sure the fortune-teller has a crystal ball prop and speaks in a scary voice, cackling included.
Autopsy Scene
Another great idea for a school carnival haunted house is an autopsy room. This scene can be executed in a number of different ways. The simplest setup is to have someone dressed up as a scary doctor who shows the children different containers and allows them to touch the contents without letting them see what is inside. The containers will hold brains (cold spaghetti), eyeballs (peeled grapes) and guts (Jello).
Graveyard Scene
Graveyards are pretty spooky places, so why not set up a graveyard scene right in the middle of the carnival? The graveyard scene should have plenty of fake tombstones, corpses and skeleton props to excite and frighten the children. A person dressed up as a ghost would be a great addition to this scene. Creepy music and fake trees and leaves will help make the scene even better.