Things You'll Need
Large mirrors with frames

Measuring tape

Paper

Pen

Mirrored Mylar sheets

Utility knife

Large mirror frames

Double-sided tape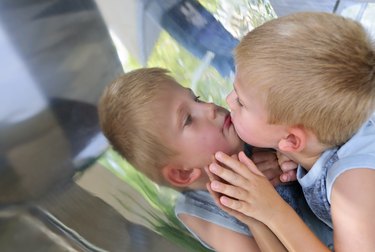 Carnival mirrors, or funhouse mirrors, are a memorable part of a day at the fair for many kids. Carnival mirrors allow children to see themselves in a funny way that ordinary mirrors do not allow. These mirrors can show an image as wider, thinner or wavy. Carnival mirrors play with the science of reflection through angles and perspective. You can make carnival mirrors at home as a fun craft or an addition to a Halloween haunted house.
Step 1
Remove the original mirrors from the frames you have bought or found. These will serve as the new frames for your carnival mirrors. Obtain the largest frames possible in relatively the same size. Find at least four frames for your carnival mirror wall.
Step 2
Measure the inside rectangle of each frame. This will dictate how large a piece of Mylar you will require for each mirror. Make a note of each set of figures.
Step 3
Measure and mark with a pen two pieces of Mylar that are 2 inches longer than the frames, and another two pieces that are 2 inches wider than the frames. Cut all four pieces of Mylar out with a utility knife.
Step 4
Tape the top and bottom of the longer pieces of Mylar to the top and bottom of their respective frames. Leave the middle free. Tape the left and right sides of the remaining two pieces to the left and right sides of their respective frames.
Step 5
Push one of the lengthwise mirrors and one of the widthwise mirrors in, making the surface concave. Pull the remaining two forward, making them convex. These effects will show all different shapes and sizes in the mirrors.
Tip
Try cutting the Mylar in S-shaped, squiggly or zig-zag patterns for more unique mirror designs.
Set up a funhouse in your home for a child's birthday by mounting your finished mirrors in the hallway. Replaced the normal light bulbs with funky colored ones and play creepy carnival music for effect.
Warning
The effects from carnival mirrors can be disorienting, so warn visitors beforehand in case their children are young or have certain illnesses that may cause anxiety or any other difficulties.