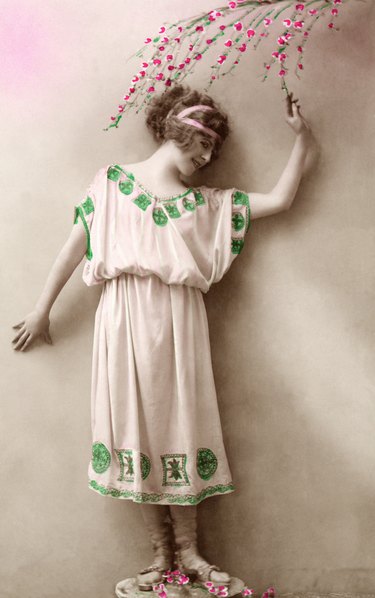 Whether it's for a college Greek theme party or for a Halloween costume, togas are an easy-to-make costume that can be crafted from household items, such as a pillowcase. While a toga made from a pillowcase is easy to put together, it also looks great and helps costume-wearers of any age look like a Greek god or goddess.
Pillowcase
A simple white pillowcase provides the best, most authentic base for a pillowcase toga costume. Other pale colors or simple prints, such as a laurel vine or subtle stripes, make suitable alternatives. To transform the pillowcase into a toga, use a seam-ripper or scissors to cut arm holes in the side of the pillowcase, as well as a hole for the neck on top. Make the toga even more elegant by cutting a more intricate neckline, such as a V-neck or a scalloped design. Simply slip the trimmed pillowcase over a pair of leggings and a tank top for an easy costume.
Belt
A belt helps gather in the pillowcase at the waist, gives the costume more shape and helps a costume-wearer flaunt her figure. A girl can select from a variety of belts to add to her costume. A thick leather belt has a dramatic look that gives off the look of a Grecian warrior. Use a golden rope for an elegant appearance. To add some color to the costume, try wrapping a sash or ribbon around the waist.
Shoulder Throw
While a pillowcase provides an easy base for a toga costume, some fabric draped over the costume-wearer's shoulders helps achieve the look of a true toga without the need for sewing. Use a white bed sheet or other white fabric to look like part of the pillowcase, or add more color by using a pashmina, throw or other colored fabric. To wear it, wrap the piece of fabric around the wearer's shoulders so that both ends fall down the wearer's front. Complete the look by tossing the end on the right side over the wearer's left shoulder: This will make it cross around the front of the costume, then cascade down the back.
Accessories
Jazz up a pillowcase toga with some Grecian or Roman accents and accessories. For footwear, slip feet into sandals. Strappy leather sandals, gladiator sandals or flip-flops with intricate beading or golden straps make great additions to a toga costume while adding a decorative touch. Top the costume-wearer's head with a crown of laurels for a regal ancient appearance. Some simple costume jewelry, like a necklace of gold coins or a chunky ring, add a finishing touch.